I have this thing about chestnuts. I don't know why. Well, maybe I do.
When I was a little girl, I would devour books (not literally of course) And every so often one character was described as having chestnut coloured hair. I thought that sounded so elegant. I found out that it meant a dark, rich brown. When I was a teenager, I bought a pair of shoes that were just so pretty- Mary Jane pumps. The colour on the box was 'Castagna'. I found out that this was the Italian word for chestnut. Sensing a pattern?
Then I had roasted chestnuts for the first time. Oh my- what a heady aroma surrounded those roundish shiny orbs of nut flesh. They were served in newspaper wrapped into a cone. The heat from the vendor's cart was the perfect contrast to the chill in the air as we were walking that evening in Rome. I love all nuts, but walnuts, almonds, hazelnuts, and chestnuts all bring out the giddy in me.
There was the time I tasted crème de marron for the first time, after spotting a jar in a local European import market. It was sublime! Of course it was sweetened and scented with vanilla, but it was creamy, and nutty, and everything that I wanted this spread to be. I started to keep a jar in the pantry for those moments when my toast needed something special. On a visit to Paris quite a few years back now, we popped into a little Crèpery on the Left Bank for a snack. Well naturally my eyes honed in on the Chestnut Flour crepes filled with crème de marron. And topped with whipped cream. Oh yeah baby!
So it was only natural that when I saw Bella's recipe for Roasted Chestnut Ice Cream on her blog, Ful-Filled, I had to make it. I mean, drop everything else, and make this ice cream. Well, I didn't actually drop everything, but it has occupied a place in my consciousness, so it was only a matter of time before I attempted her recipe. Everything that I have made by her turns out most beautifully.
I love the fact that her recipe sprang from an Acorn Ice Cream that she had made from foraged acorns. Yes, acorns!!! Isn't that the best?! She says it's one of the best ice creams she's ever tasted. But seeing as how most people may not have access to acorns, let alone the time or patience to go through the boiling and reboiling processes until all the tannins could be leached out of the acorns, she realized that chestnuts might be a viable substitute. Like in Europe, the Native Americans used chestnuts as a starch. Today you can get chestnut flour, especially from Italian specialty shops, or online. It's wonderful to bake with. I use it in cakes, muffins and crepes all the time. Also it is gluten free (for those who are looking for alternatives) And chestnuts themselves are easily found at this time of the year. So you can roast them off yourself, or if not so inclined, you can purchase them already roasted and vacuum packed.
So that's what I used- the vacuum sealed variety. I always have a few bags around, they're great for snacking on, great for travelling! Like most nuts, they have a slight sweetness to them. And they work perfectly as a substitute for proteins in certain recipes.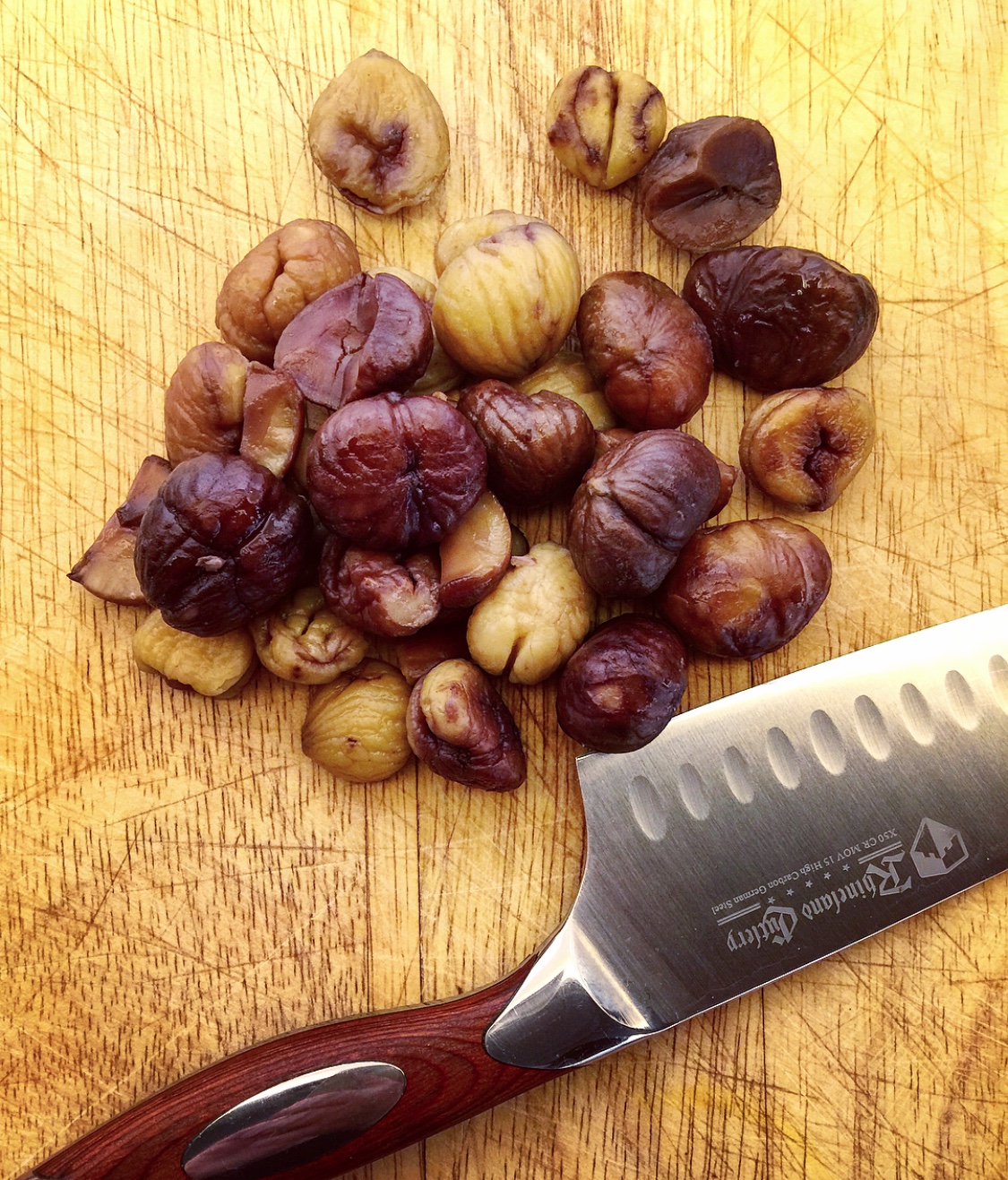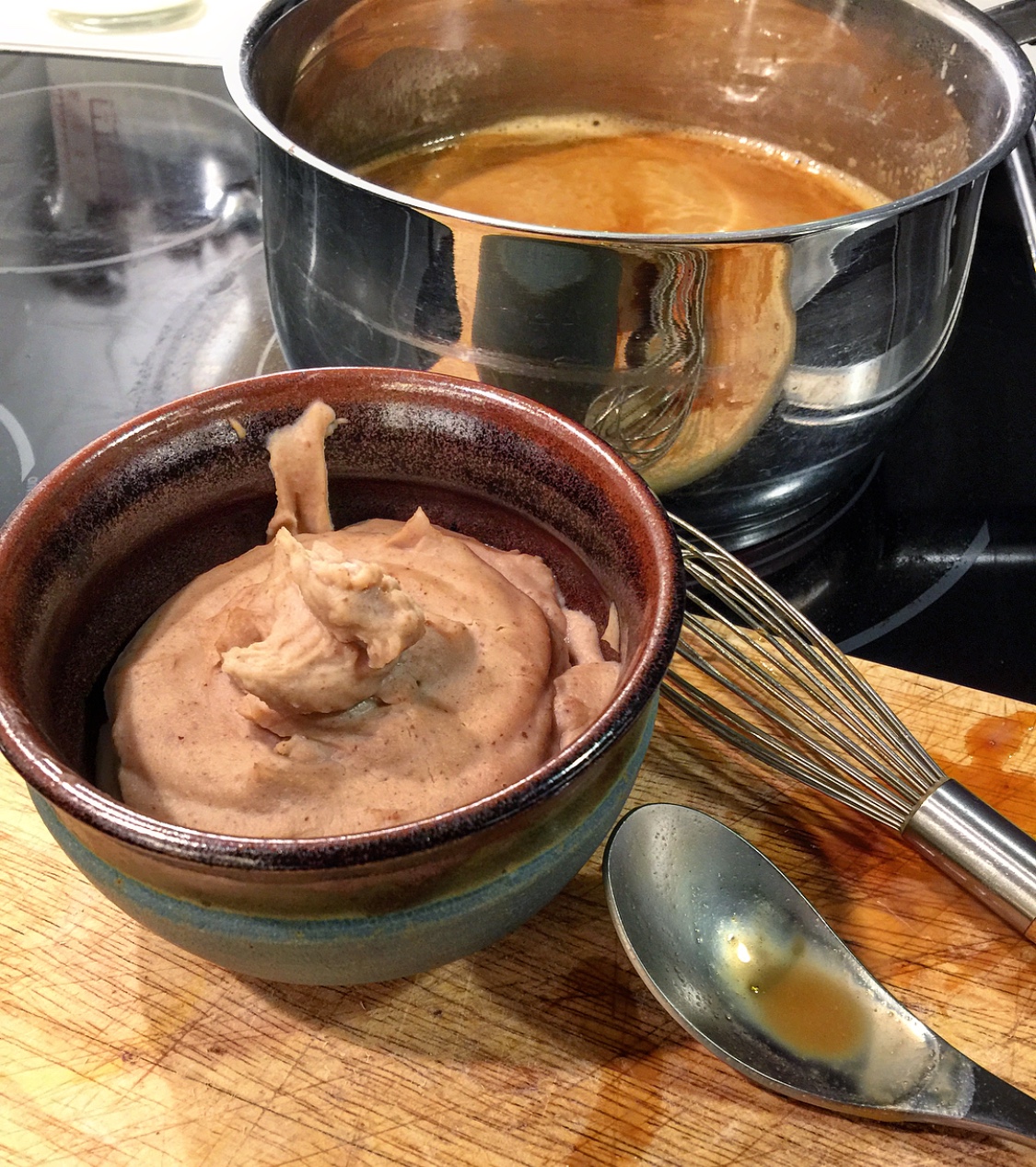 The recipe starts with making a chestnut purée. So easy- just simmer finely chopped chestnuts in milk for about 10 minutes. Then they will get blended up until the mixture is quite smooth. Putting my Vitamix to work with this one. Oh my!! For this alone, I love this recipe. I could use this as a nut butter substitute any day. Add some maple syrup or brown sugar, and vanilla, and what a great spread. But I digress.
The purée gets added to a simmering custard base of milk, cream, honey, brown sugar, egg yolks and vanilla. Once thickened and cooled, the usual process for making an ice cream is followed. Just pull out your machine, follow the directions for ensuring that the container is chilled, and let it do its job on the velvety custard. Next thing you know, you have an earthy, nutty ice cream!
As I watched the custard churn away in the machine, I immediately thought that this would be amazing with whisky!
How to make a Whisky Affogato: Take a scoop of the ice cream and put it into a small to medium rock glass. Top with 1 oz (2 tbsp or 30 ml) of hot espresso, and then up to 1 oz of Whisky. My fave is Jura Prophecy, a heavily peated single malt. But use what floats your boat!
Of course, this ice cream would be amazing topping a pie, say a Cranberry Sage, or a Mincemeat Pie. I'm sure I'll come up with many ways to eat it. Perhaps a bittersweet chocolate sauce drizzled over it?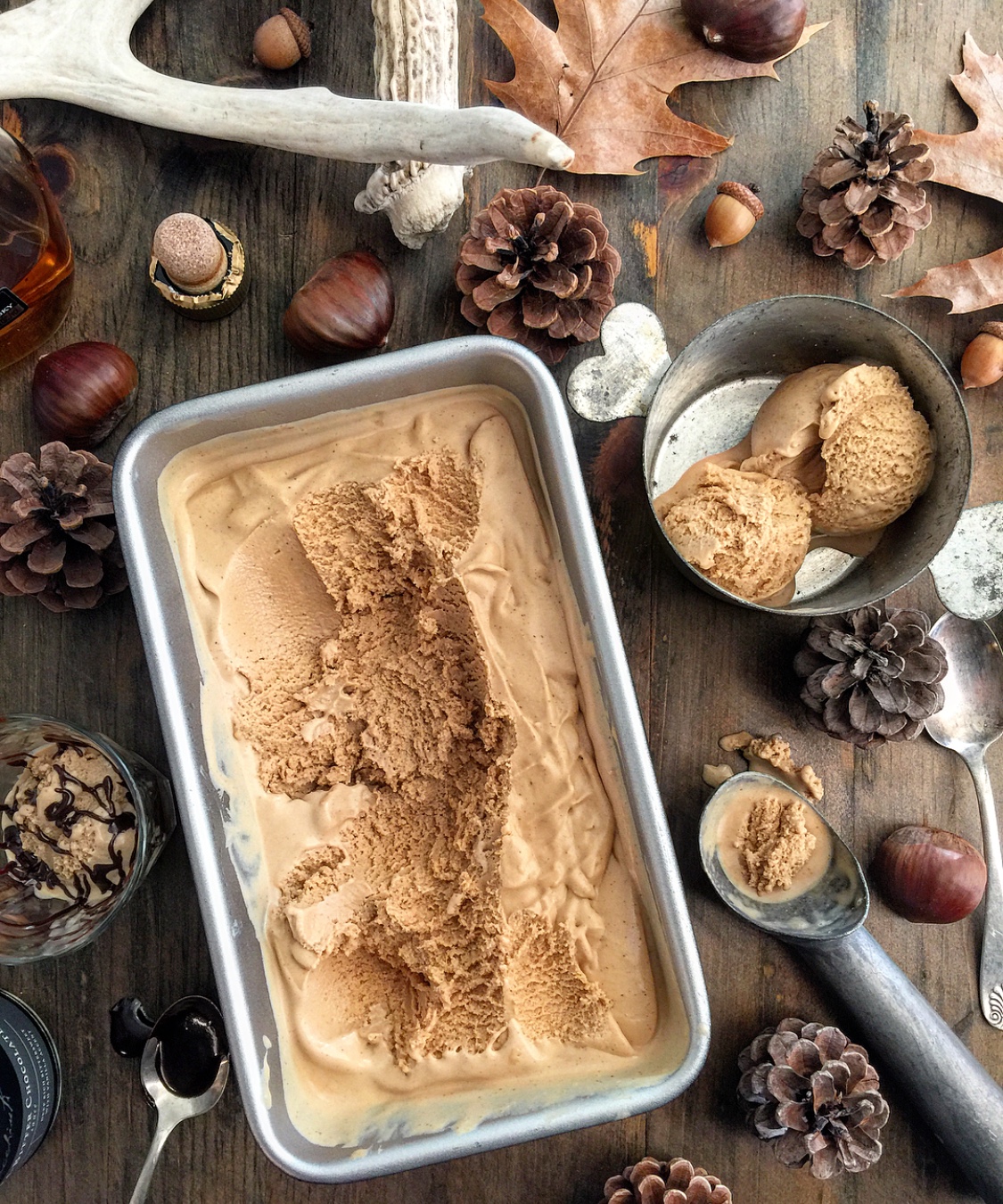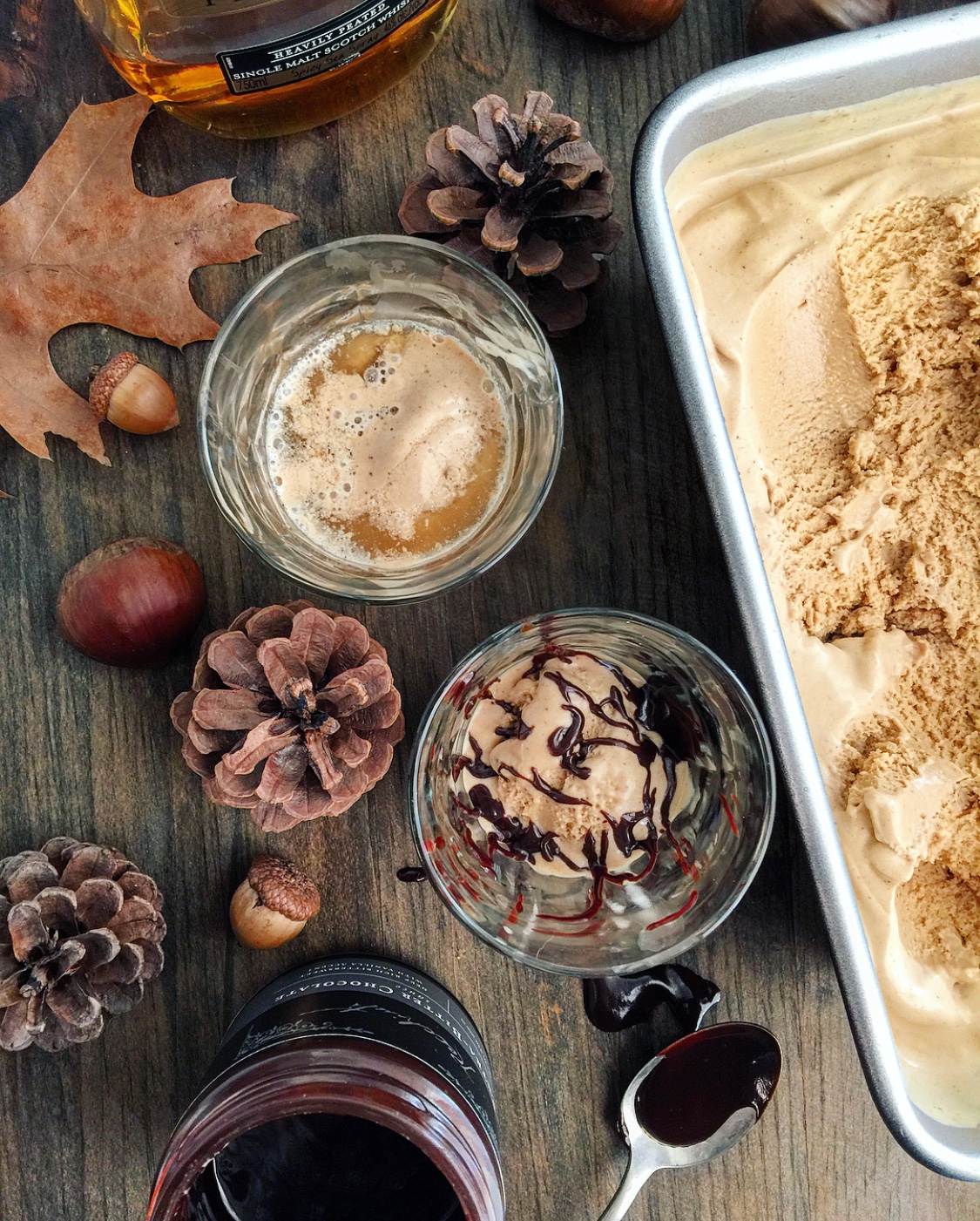 Love Jen
Roasted Chestnut Ice Cream
A rich, creamy, nutty ice cream using seasonal chestnuts that you've had the fun of roasting, or pre-roasted chestnuts that are vacuum sealed. Perfect winter dessert. Or in an Affogato!
Ingredients
1

cup

roasted chestnuts

16

oz

heavy cream

16

oz

whole milk

1

cup

mascovado sugar

, divided (brown sugar can be substituted)

1/2

cup

honey

1/4

tsp

salt

1

tbsp

vanilla

6

egg yolks
Instructions
Freeze the bowl of your ice cream maker at least 24 hours in advance

Place a 8-9" metal baking pan in freezer to chill

Finely chop the chestnuts and place in a saucepan with 8oz of the milk, bring to a simmer and cook for 10 minutes, add contents to a Vitamix or food processor and blend until perfectly smooth, reserve

Add cream, other 8oz of milk, 3/4 cup sugar, 1/2 cup honey and salt to a saucepan and cook over medium heat, stirring occasionally until mixture reads 175f degrees (about 5-10 minutes)

While cream mixture is heating, whisk the egg yolks and 1/4 cup sugar in a bowl until smooth - slowly whisk in 1 cup of warm cream mixture into yolk mixture to temper the yolks

Add tempered yolk mixture to the saucepan and cook over medium low heat until mixture thickens and registers 180f degrees (about 7-10 minutes)

Stir in chestnut puree and vanilla until well combined with custard

Strain custard into a bowl through a fine mesh strainer and cool until it is no longer steaming (about 10-20 minutes)

Reserve 1 cup of the custard mixture into a small bowl, cover with plastic wrap and place in freezer

Cover large custard bowl with plastic wrap and refrigerate for at least 4 hours or up to 24 hours

Remove custards from refrigerator and freezer and scrape frozen custard into large bowl of custard - stir occasionally until frozen custard has fully dissolved

Transfer custard to ice cream machine and churn until soft serve registers 21 degrees (15-25 minutes) I just let it go to 25 minutes.

Transfer ice cream to the frozen baking pan and press plastic wrap on surface - return to freezer until firm around the edges (about 1 hour)




Transfer ice cream to an airtight container and freeze until firm (at least 2 more hours) - serve

To soften any leftover ice cream after storing in freezer, leave ice cream at room temperature until desired consistency or slow defrost in the refrigerator about 1 hour before serving for perfectly scoop-able ice cream
Recipe Notes
The pan that I initially store the ice cream in is the same one that I store it in. I skip the step of transferring it to an airtight container. By covering the ice cream with plastic wrap, and then with a tight covering of aluminum foil, I get a good seal.
Recipe inspired by Ful-Filled's Roasted Chestnut Ice Cream
SaveSave
SaveSave
SaveSave
SaveSave