Every culture has a dumpling of some sort, right? And for some cultures, it's the very same dumpling, just with a different name!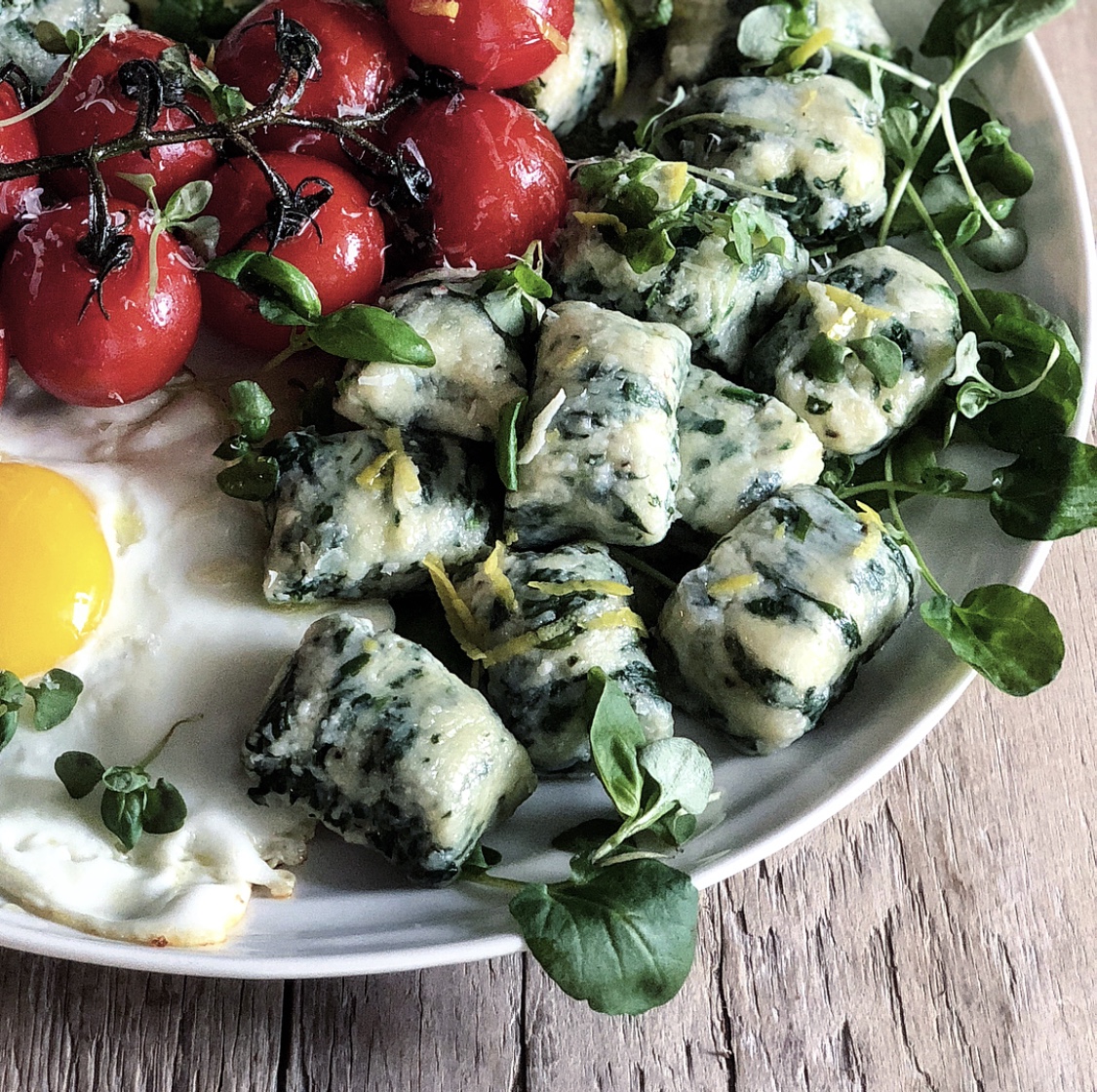 For instance, what Italians calls Gnocchi, Germans might call Schupfnudeln. My mom actually called them Rehpfoten. I think this was a colloquial way to describe these little pillowy potato dumplings: deer paws. This was for the shape they were cut in. The long logs of potato, egg and flour were then cut on an angle, imitating a deer hoof. But the ingredients and preparation for both gnocchi and rehpfoten are exactly the same.
Jim isn't a huge dumpling fan. Which is very disturbing to this German girl. I mean, we Germans live for dumplings and homemade noodles of all sorts. Traditional German meals have either large Klöße or Knödel (big round potato dumplings) or Spätzle (small rubbed noodle dumplings) as the classic starch to soak up all the gravies and sauces. I have been known to make up gravy just so that I have an excuse to make a batch of Spätzle. Total German comfort food!! So I was disappointed when I made up Rehpfoten with my mom one time, and he wasn't jumping up and down like the rest of us. But I haven't given up on him yet. I will either convert him, or break him!! If you have a hankering for the best little dumpling, check out my Sauerbraten with Spätzle post. It's one of the most classic of German meals: a roast that is marinated in a vinegar and spice bath for five days, and then braised, and served with homemade dumplings, gravy, and red cabbage or beets. Of course, when I serve it, I also have to make mashed potatoes for Jim. I'm used to it now. And naturally, you could serve sauerkraut if you wish. And a bright cucumber salad on the side. Ooooh, now I'm craving that meal! 😀
This month, for our Cook Book Club, we're using Basic to Brilliance by Donna Hay. I have collected Donna Hay magazines for over a decade. So it was a given that I would love her book. It is a gorgeous book. Each section starts off with a basic recipe or master recipe. These are used as the base for other recipes to go with each basic. I've already fallen in love with the Thai Green Curry Paste. She offers several recipes that employ that paste in the most delectable way. You can see what I did with it in the Thai Green Chicken Curry post. It is sooo easy, comes together quickly, and yet jam packed with bright and fresh flavours.
Well, I was totally enamoured with her recipe for Cheat Ricotta Gnocchi. I mean, gnocchi that you don't first have to boil and mash potatoes for?! I'm in. There's something so special about fresh ricotta. It's so simple, and sublime about its texture and flavour. I have to be careful not to eat it with a spoon!
So, this is how easy it is: Ricotta, grated parmesan, flour and eggs come together to form a wet dough. A bit of salt and pepper for flavour. And that's it. Yep. It gets divided and rolled out into long logs. These then get cut up into bite sized pieces. And into boiling water they are dropped. They're done when they float to the top. How easy is that? What sends them to the next level is the flavour additions that Donna suggests. The one that attracted me was her Simple Spinach and Ricotta Gnocchi. I think it was the visual that caught my attention first. The ribbons of bright vivid green running through the little ricotta pillows looked so amazing. I just had to try it.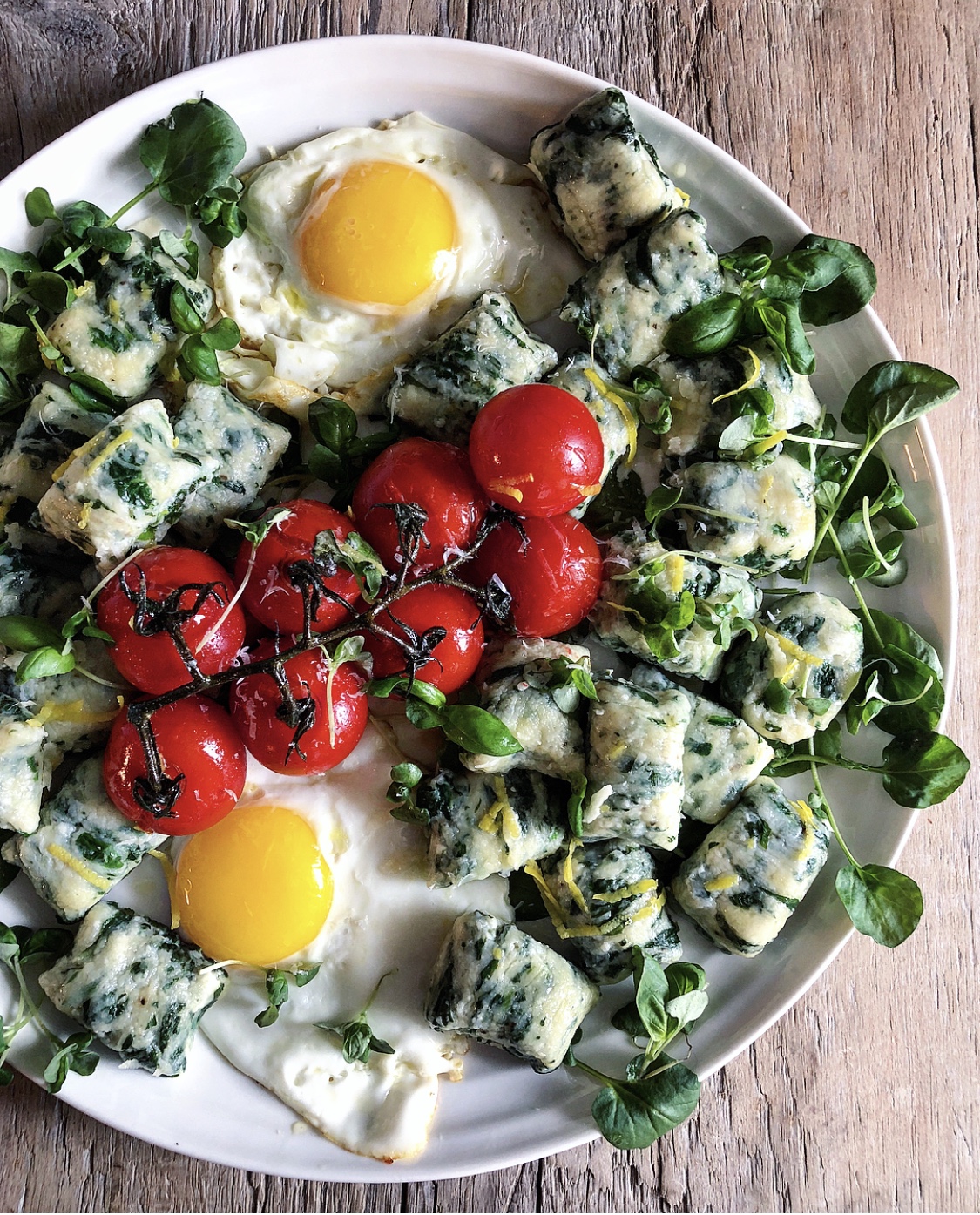 And how easy is this: instead of steaming or boiling the spinach first to soften it, she just has you put the big pile of baby spinach in a large mixing bowl. Then pour boiling water over it all and wait a minute. Then you'll drain it and squeeze all the leaves in a tea towel to get rid of all the excess liquid. Then chop it up and add it to the ricotta dough. Mix and boil as I already described.
To top off these lovely soft, delicate pillows, a simple lemon oil is created and drizzled over them all. Just take lemon zest, lemon juice and olive oil and blend. That simple.
But this dish is far from simple in flavour or visual impact. It would make a lovely first course for a dinner party. Or as a side for steak dinner. Once the gnocchi are boiled up, they can be placed on a platter and drizzled with a tiny bit of olive oil till you are ready to serve them up. We just had them with eggs and a quick roasted tomato vine. Really, there was nothing missing in this delightful meal.
Donna's other version is a totally different take on this basic recipe. It involves roasting off two heads of garlic till soft and caramelized. Half get mashed and added to the basic gnocchi dough. Then fresh sage leaves are sautéed in butter till crisp. The sage is removed to a plate, and the boiled gnocchi are quickly fried in the butter till golden on each side. Serve them with the crispy sage and reserved caramelized garlic cloves. Sprinkle with parmesan and salt, and a lemon wedge. Such an autumnal dish, isn't it?
So, gnocchi that are a breeze to whip up. Perfect for company or for family dinner. Or cut the recipe in half and just serve two or three for a lunch. It does't take any time to get these from bowl to table. I hope you like these as much as I do! And leftovers reheat amazingly in a touch of butter and olive oil in a sauté pan over medium heat.
Love Jen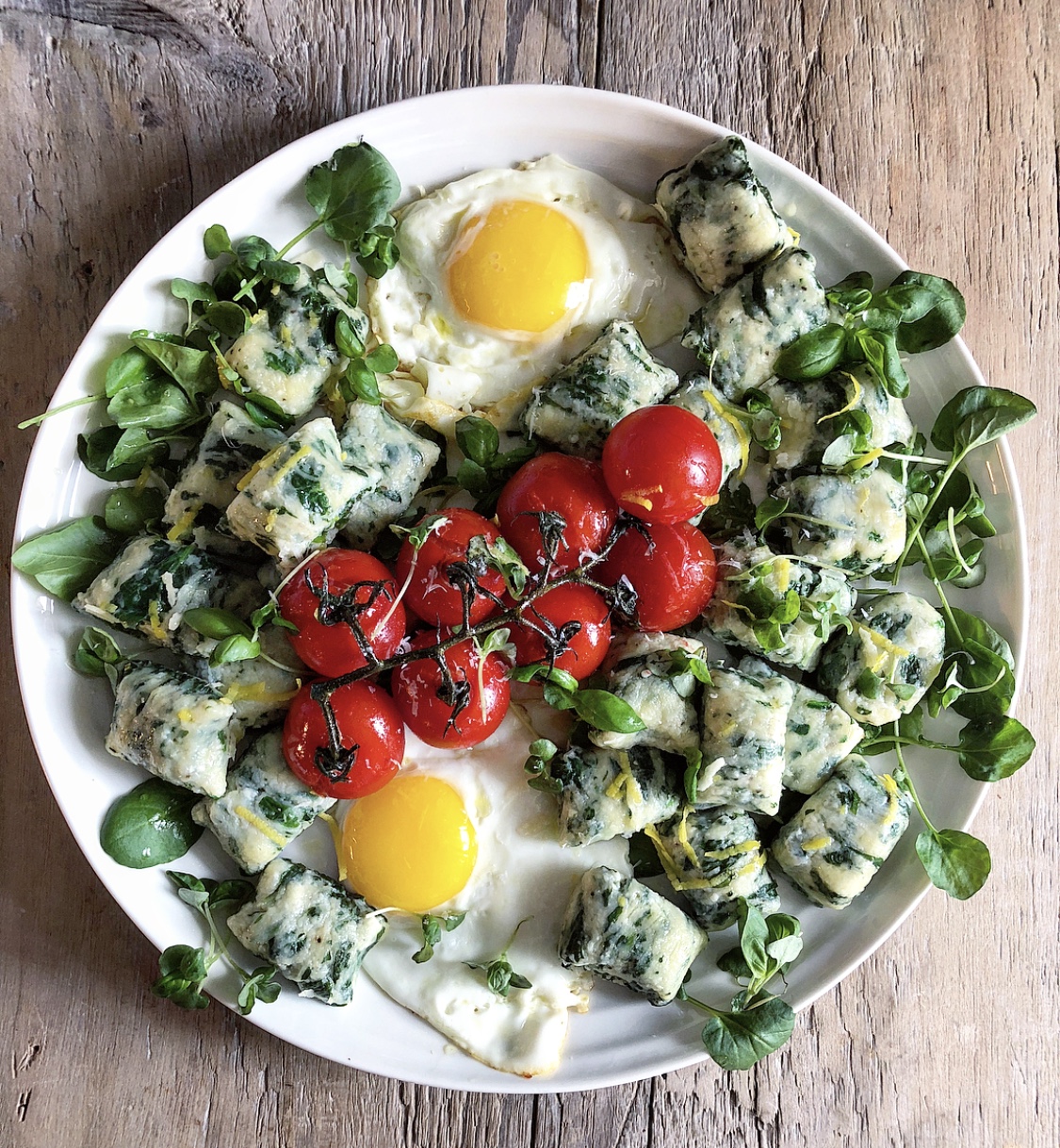 Simple Spinach and Ricotta Gnocchi
These soft pillowy dumplings are brought to life with the brightness of fresh baby spinach. A drizzle of lemon zest, juice and olive oil and topped with parmesan and greens makes this a wonderful lunch, side dish or even first course for a dinner party!
Ingredients
Basic Ricotta Gnocchi
1 1/2

cups

fresh ricotta

(360 g) see Notes below

1

cup

finely grated parmesan

(80 g)

1

cup

plain AP flour

(150 g)

3

eggs

1 1/2

tsp

sea or kosher salt

, to start, depending on the saltiness of your ricotta and parmesan.

3/4

tsp

cracked pepper
Spinach Gnocchi
1

tsp

lemon zest

1/4

cup

lemon juice

(60 ml)

2

tbsp

extra virgin olive oil

sea salt and cracked pepper

10 1/2

oz

baby spinach leaves

(300 g)

1

batch basic ricotta gnocchi

2

cups

fresh Arugula

1/2

cup

freshly shaved parmesan cheese
Instructions
Ricotta Gnocchi
Place the ricotta, parmesan, flour, eggs, salt and pepper in a bowl.

Mix until combined and a sticky dough is formed. Taste to see if it is salted enough to your taste. Re-season now if needed.

It will be sticky to roll out. Use a well floured surface and fingers when shaping.
Spinach Gnocchi
Place the lemon zest, juice and olive oil in a small bowl and whisk together with a good pinch of salt and pepper. Set aside.

Place the spinach in a large bowl. Cover with boiling water. Set aside for 1 minute.

Drain and place the spinach (in batches) in a tea towel. Wrap up and squeeze the towel to remove any excess liquid.

Finely chop the squeezed spinach and add to the ricotta gnocchi dough to combine.

Lightly flour the counter.

Divide the dough in half or even into four sections, and roll each piece into into a 1 1/2 inch (3 cm) thick long log. Slice the log into 3/4 inch or so pieces and place them on a lightly floured tray or platter.

Cook the gnocchi in batches in a large pot of boiling salted water.

They should be in the boiling water for about 2-3 minutes. They are cooked when they float to the surface.

Remove with a slotted spoon or spider and place on a serving plate.

Top with the lemon oil, fresh arugula and shaved parmesan.
Recipe Notes
This is the time to get fresh ricotta. It will make all the difference! Usually you can find it at deli counters or at cheese mongers.
SaveSave
SaveSave
SaveSave