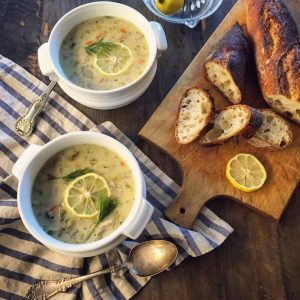 If fruits and veggies can have emotions, then to me the lemon epitomizes happiness. Don't you think? Eggplants are somber, artichokes are morose, cherries are elegant, currants are whimsical…
But lemons win out as the fruit that I love to see sitting on my counter; piled high at the grocery store; as subjects for still lifes; and are the colour of joy. Lemons are refreshing; are a great cleaning instrument; are found in my hand soup and lotions. Hmmm, I should reflect this somehow on this website…oh wait…I did!
And recipes that feature and put lemons at centre stage are amongst my favourites. Lemons in my pasta, rice, tarts, pies, cakes, drinks, chicken dishes, vinaigrettes, and soup. This soup just makes me smile. It feels like summer in a bowl. I can eat this in the middle of winter, and be immediately transported to an Italian patio, finishing a dinner al fresco and getting ready to sip some limoncello. I won't say it transports me to Greece, which it should, since it is a Greek soup, but I have no reference point. We haven't visited Greece yet. But we will be in September for our anniversary, so maybe I'll need to update this post after that trip! Heehee.
Avgolemono is such an easy soup to whip up, but it goes over the top with a beaten egg and lemon juice mixture added to the broth at the last minute before serving. Oh yumm! I use orzo pasta. I know of versions that use cooked rice instead. But I make so many soups with rice in them, that it's lovely to have one that is made easily with the addition of orzo.
Cooking the chicken thighs right in the broth that the leeks and celery are cooking in adds such a depth to the broth. I've seen recipes that ask you to poach the chicken separately. But that seems to just leave out all the flavour that the cooking chicken can impart to the soup. I like it this way!
I hope you like this recipe as much as we do. Greek cuisine, like all Mediterranean cuisines, is healthy, refreshing, light, full of flavour and so much fun to prepare. Opa!
Love Jen.
Uber Lemony Chicken and Orzo Soup
Also called Avgolemono, this soup is fresh and cozy at the same time. A classic Greek soup that will make you think of summertime even in the dead of winter.
Ingredients
1

tbsp

olive oil

1

carrot

peeled and chopped

1

celery stalk

chopped

1

medium leek

cleaned, sliced into half moons

4

boneless skinless chicken thighs

6

cups

low sodium chicken stock

homemade if possible

1/2

cup

orzo pasta

1/3

cup

freshly squeezed lemon juice

start with 1/3 cup, you may want to of up to 1/2 cup depending on your lemon love (taste first)

1

egg

1/4

cup

chopped dill

lemon slices for serving
Instructions
Heat the oil in a heavy bottomed pot over medium heat

Add the carrot, celery and leek and cook, stirring often till just starting to soften. 3-5 minutes. Season with salt and pepper.

Add the chicken thighs, and broth. Bring to a boil and then reduce and cover, reduce heat to low and simmer until chicken is cooked through, about 20 minutes.

Remove the chicken to a plate to cool just a touch. Then shred the chicken into bite sized pieces.

Meanwhile, bring the soup back up to a boil and add the orzo. Cook until just al dente, about 8-10 minutes. Return the chicken to the pot.

Beat the lemon juice and egg together. Add 1 cup of the broth (1/4 cup at a time) to the mixture and whisk constantly to temper the eggs avoiding curdling and cooking the egg.

Remove the pot from the heat.

Then take the entire lemon, egg and broth mixture and return it to the pot, drizzling it in and stirring the liquid to ensure that it stays smooth.

Add the dill.

Serve, garnishing with lemon slices.
Recipe Notes
The recipe starts with 1/3 cup lemon juice. More can be added with the lemon slices or wedges.
You can add a touch of heat (hot pepper flakes) or garlic. But then it wouldn't be a traditional Avgolemono. But that's alright.