It is the beginning of October 2016, and we are enjoying Summer weather, even still! Mind you, I'm stuck at home with a head cold, so I'm only admiring the weather from afar.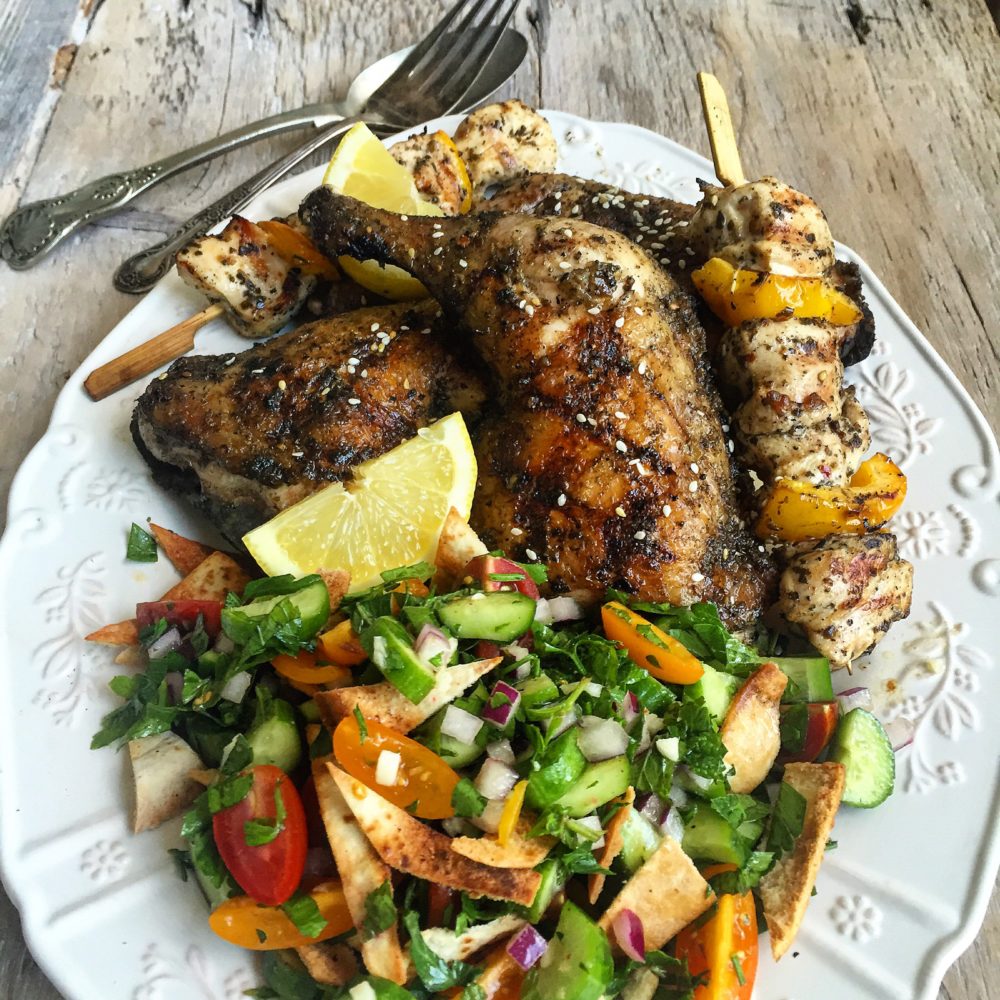 And we just got home from three weeks in the Mediterranean, so we fully expected to return to Toronto and find the temps down in the mid teens (that's high 50's F) But surprise!! This really is the Summer that doesn't want to leave. Wouldn't it be wonderful if this boded well for the upcoming Autumn and Winter? Perhaps delayed, and then even a touch milder than usual? Fine, this may be wishful thinking on my part, but I don't think anyone will fault me.
It seems apropos that I share this recipe on a 'summery' day in October. I have been making this chicken recipe since Nigella Lawson released her fantastic book, "Forever Sumer", back in 2003. The premise of the entire cookbook (which should be on every cook's shelf) is that capturing the feelings and tastes of Summer can be achieved, even in the dead of winter. And really, it is in January especially that we are desperate for the balmy, sunny, and heady days of summer. Even me, a lover of Winter and firmly on Team Autumn. When Winter is cruelly hanging on in March, Summer seems especially necessary. Hence the purpose of this cookbook.
What's lovely about the recipes in the book, is that the flavours and ingredients may pay homage to the warm months of the year, but the cooking methods and sensibilities know no season. So you can easily bake this chicken dish and prepare this salad in February exactly as Nigella outlines, and totally feel like you are eating a meal meant for a patio or terrace.
It was this recipe, and this book that first introduced me to za'atar and sumac. I had never really even heard of these herbs/spices before. The exotic cooking ingredients of Turkey, Egypt, and the Middle East were only just starting to may inroads in mainstream North American cooking. Thanks to Nigella and others like herself, we were getting a crash course in whole new flavours and cooking styles. And we've never looked back. Now I can't imagine not having these spices, along with ras-el-hanout, harissa, aleppo pepper, espelette pepper, etc. in the spice cupboards.
This chicken recipe is such a brilliantly easy one to prepare. You'll take your seasonings and olive oil and put them in a plastic bag (or baking dish) Add the chicken pieces and toss to coat evenly. Then they'll all marinate together for a few hours. And while it is easy to throw them on a grill to cook in the summer, we may not have access to a grill in February. So that's why Nigella directs us to put these in the oven to roast. The outcome is exactly the same, that brilliantly crusted skin on perfectly roasted chicken, packed with simple and yet exotic flavours. While the chicken is roasting away, whipping up the fattoush salad couldn't be easier. Thankfully even in the dead of winter, we have access to some pretty good cherry tomatoes. I use these instead of the usual field or hot house tomatoes- they have a better flavour and texture as far as I'm concerned. Combining the tomatoes with cucumber, mint, parsley, lemon, onions, and the grilled pita bread pieces makes for a fantastic salad, with or without the chicken. This salad has become one of my go-to's as a base for all sorts of meals. It can turn into tabouleh, or become a great base for grilled shrimp or roasted flavoured chickpeas.
I'm happy that I can share this with you now. So that you'll have something summery to lean on, when the snow is falling and you just can't bear making one more stew or casserole. Make it now, and make it often.
Love Jen.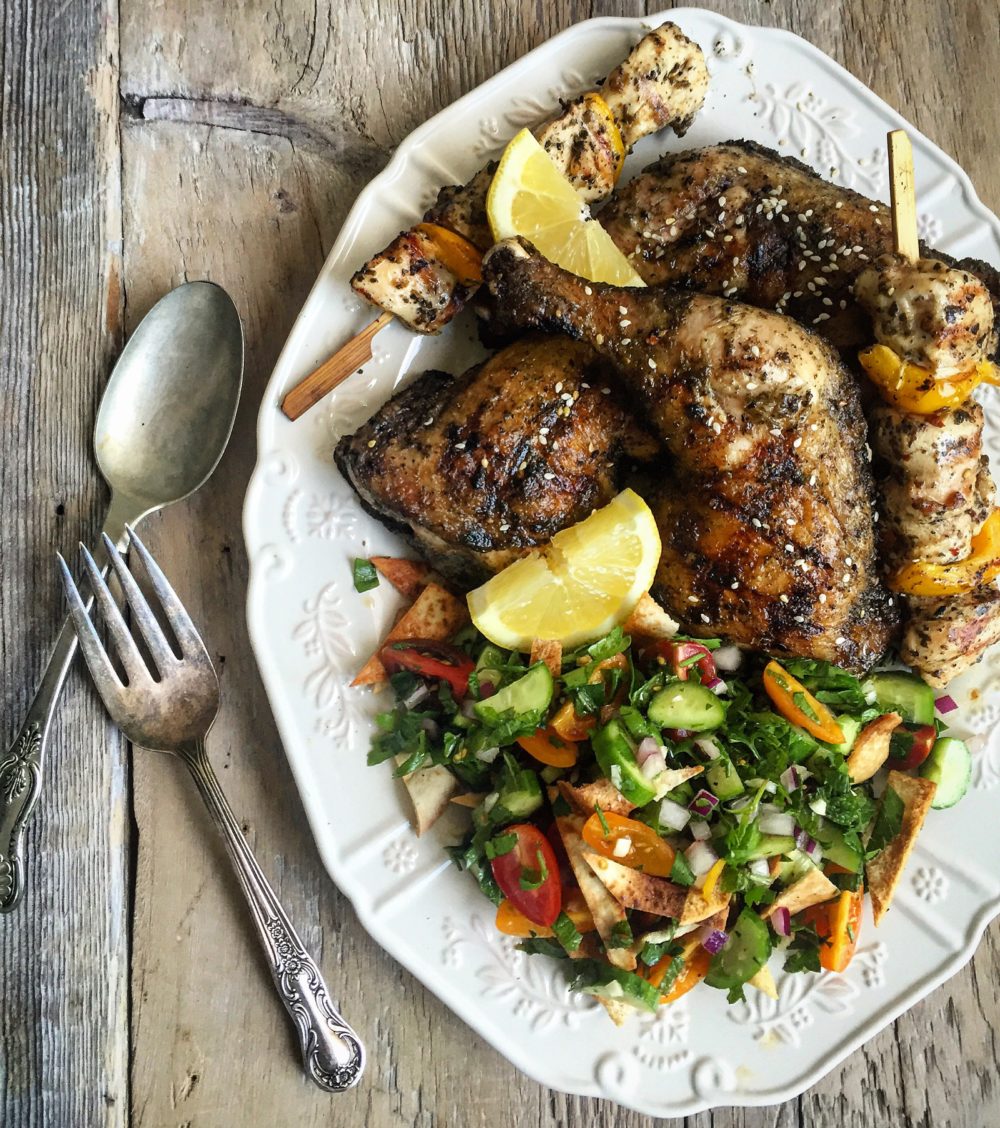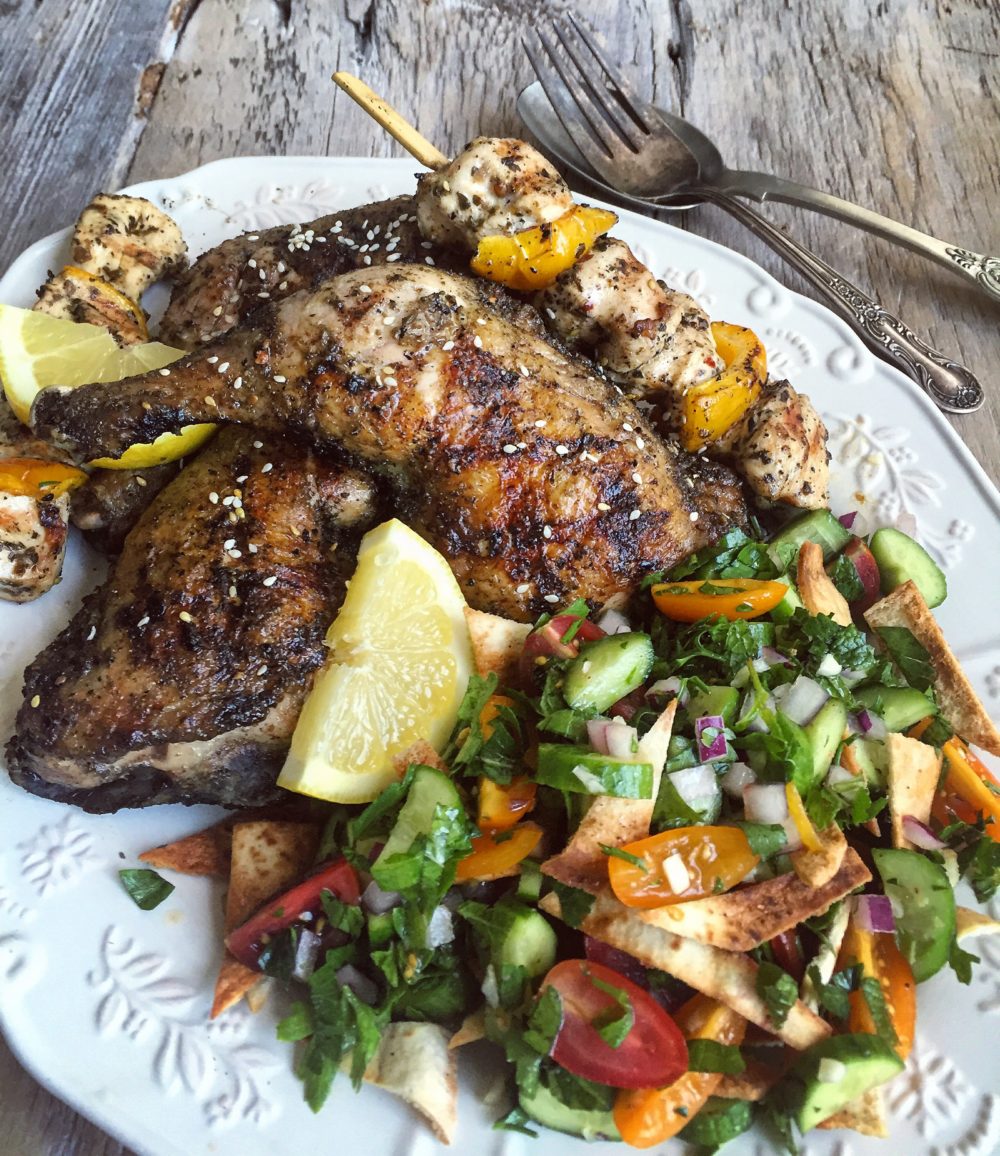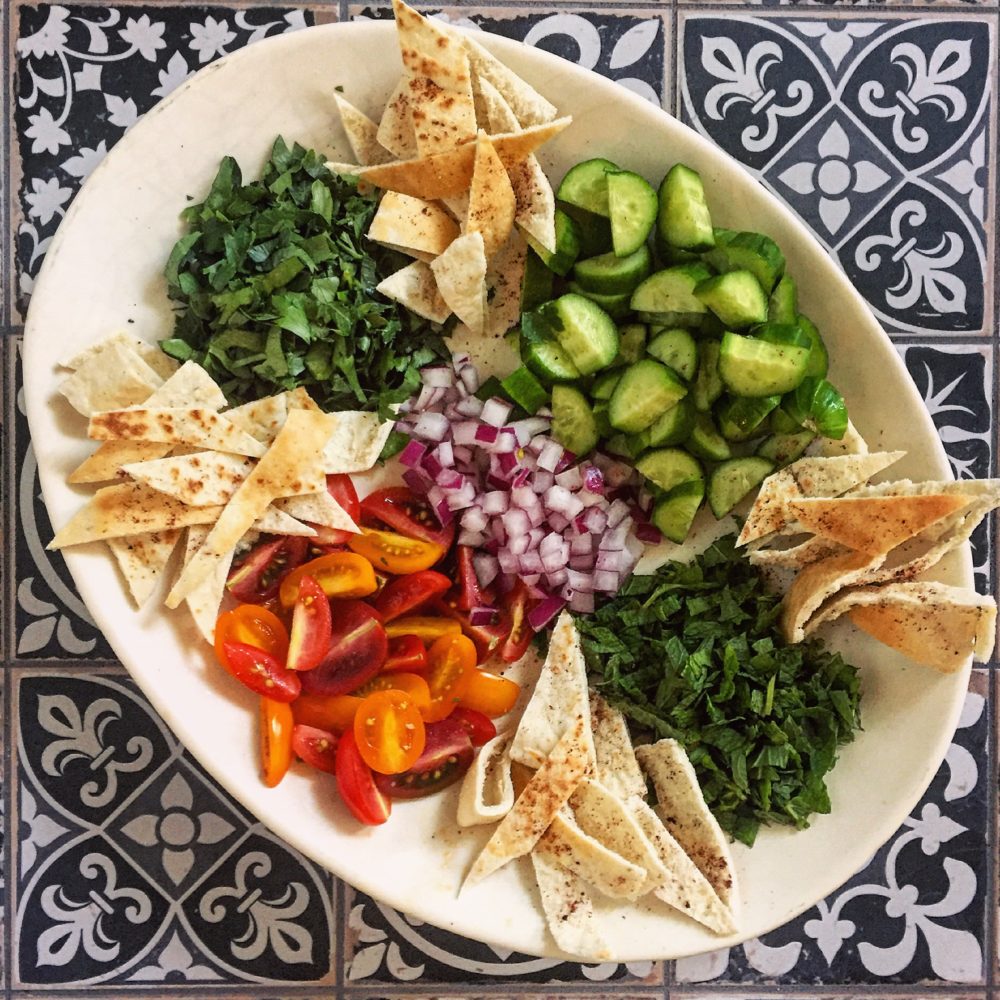 Za'atar Chicken with Fattoush
Perfectly crusted roast chicken pieces and a Middle Eastern salad both deeply spiced with za'atar and sumac. Great all year round 🙂
Prep Time
2
hours
10
minutes
Ingredients
1/2

cup

olive oil

it doesn't need to be extra virgin

1

chicken (3.5 lb)

cut into 8 pieces. Alternately, you can use legs, thighs, drumsticks etc.

2

tbsp

za'atar

kosher salt

2

pita bread

3

fat scallions

halved and sliced

1/4

med red onion

thinly sliced or diced

1

cucumber

cut into quarter moons

3

roma tomatoes

seeded and diced (or 2 cups of halved cherry tomatoes)

bunch of flat leaf parsley

chopped

bunch of mint

chopped

2

garlic cloves

minced

6-8

tbsp

EV olive oil

juice of one lemon

maldon or kosher salt

1/2

tsp

sumac

or more to taste, it has a bright lemony presence
Instructions
CHICKEN

Pour the oil into a large roasting pan, big enough to hold all the chicken pieces in a single layer. Add the chicken, rubbing the oil into all the nooks and crannies.

Sprinkle the za'atar over the chicken and rub it into the oily skin. Cover with cling film. Leave the meat to marinate for a couple of hours in the refrigerator. Or you can do it all in a plastic freezer bag, sealing it well and storing it in the fridge, even overnight.

When ready to cook, preheat the oven to 425F.

Transfer the pan (minus the cling film) making sure that all the skin sides are up in the roasting pan (or pour out from the plastic freezer bag into a roasting pan).

Roast the chicken pieces for about 45 minutes, or slightly longer, so that they are well cooked, the skins being burnished to the perfect burnt umber. Remove from the oven and pile onto a platter.

Sprinkle with sea salt and a bit more sumac if desired.

FATTOUSH

When the chicken is almost finished roasting in the oven, you can start the fattoush.

Cut the pita breads open, so that you have 4 very thin rounds. Lay them on a baking sheet. Add the baking sheet to another rack in the oven to post up for about 5 minutes (check to make sure they don't brown too much)

Remove them to cool.

In a bowl, combine the scallions, cucumber, tomatoes, parsley, and mint, as well as the minced garlic. Using a pair of kitchen scissors, cut the pita into bite sized pieces (rough triangles) of the bowl of the salad. Save a few pieces to garnish the salad with at the end.

Toss the salad together. Then dress it with the olive oil and lemon juice. Toss gently. Add some salt and taste. Adjust the olive oil or lemon to your liking.

Add remaining pita pieces, and sprinkle the lovely dark sumac over it all.

Serve with the chicken.
Recipe Notes
In the summer (or any time of the year if you have access to a grill) feel free to grill the chicken pieces. Grill on medium low to ensure that they are cooked through before becoming charred on the outside.
For the fattoush, I have often added diced red onion in addition to the scallions. Jim loves red onion, so why not!?
Grilled or lemon roasted potatoes would be fantastic as an accompaniment.
Adapted from Forever Summer by Nigella Lawson
SaveSave
SaveSave