Jim loves coconut cream pie. I love making it for him.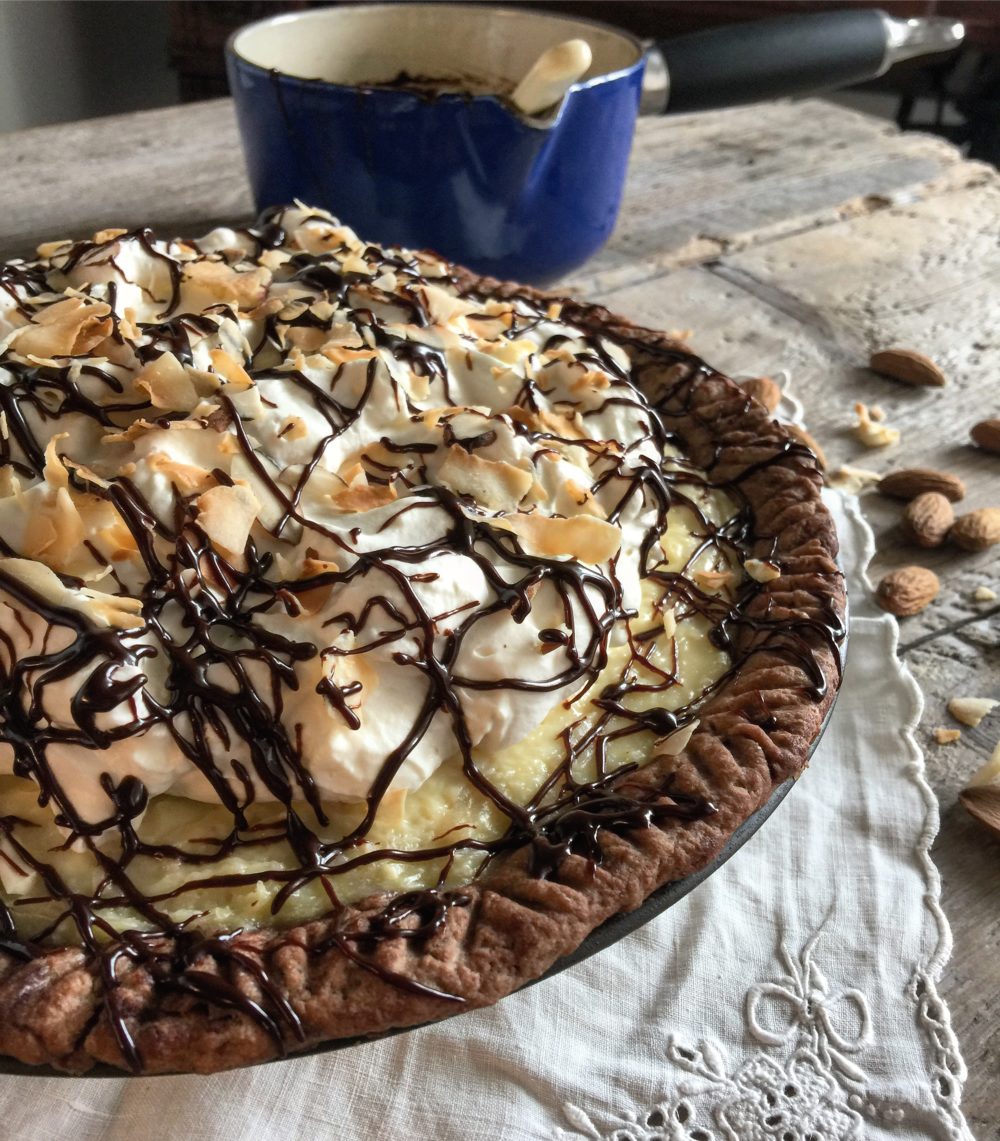 It's such an easy pie to whip up: the only thing that goes in the oven is the pie crust for a pre-bake. The filling is done on the stove. And then you watch it wistfully as it sets up in the baked shell.
Well this time around, I wanted to switch it up a bit. Not that I don't love the coconut cream pie recipe that I use. I found it originally on Rock Recipes. And it really is a creamy (not stiff) filling, with tons of shredded coconut. And while I say creamy, it still does set up perfectly, not oozy at all.
So how could I make this even better? I thought about chocolate. Chocolate and coconut go wonderfully together. And of course, once I headed down that road, it was only moments before I thought about one of my favourite childhood candy bars, Almond Joy. Remember those commercials: "Sometimes you feel like a nut, sometimes you don't. Almond Joy's got nuts, Mounds don't." To be sung, of course! So I decided to try and echo the flavours of a good ole Almond Joy.
I'd start off with a chocolate pastry crust. It just seemed right. And then in the filling I'd fold in slivered almonds to the shredded coconut mixture. I'd add Amaretto (almond liqueur) to the whipped cream. And top it all off with slivered almonds, toasted flaked coconut, and a good drizzling of chocolate.
First up, the crust. It was easy to add the raw cocoa to my Perfect Pie Crust. Just add it with the flour at the beginning. I did removed one tbsp of the flour to make up for the two tbsp of cocoa that I was adding. I added an extra teaspoon of sugar as well. Well, once the dough was ready for rolling out, I realized that I couldn't just use plain flour for my bench flour. That would totally ruin the effect of the chocolate. So I put about 1/4 cup of flour into a bowl and added another tbsp of raw cocoa to it. I whisked them both together till they became one. This would then be the flour on the counter, and for my rolling pin. It all worked great.
I added the slivered almonds after the 'pudding' had come together in the pot. Once the filling had cooled sufficiently, I added it to the cooled pie shell. And then this all had to set up well, before I added the whipped cream. So I covered just the filling with cling wrap and put it in the fridge. The next day I whipped up my cream with Amaretto, a touch of vanilla and some icing sugar. I mounded the whipped cream on the pie and returned it to the fridge to set the cream.
Now for the chocolate drizzle. You can simply take some chopped chocolate and put it in a double boiler of sorts with a touch of cream, and melt them to make a ganache. Or you can take ready made chocolate sauce and place about 1/3 cup into a small pot and heat over a low setting till melted and smooth. Let either one cool down, but not to the point where the chocolate is starting to set again. It should still be runny or drip-able when a fork or spoon grabs some. Drizzle the chocolate over the cream. And sprinkle it all with slivered almonds and toasted coconut flakes (you know, the large ones!)
It was a hit. It was inhaled. I am very happy 🙂 I totally feel like a nut. In a good way 😀
Love Jen.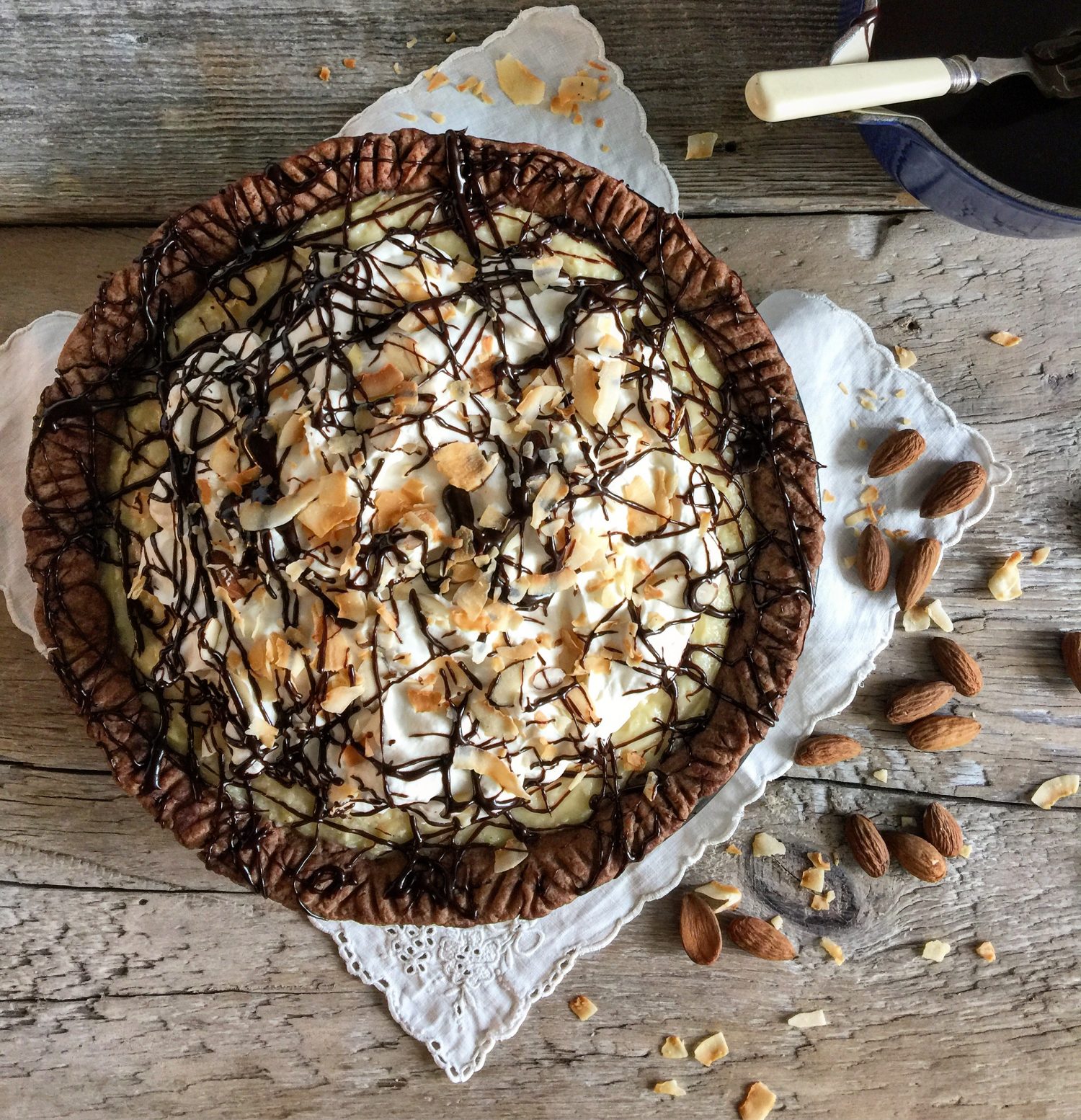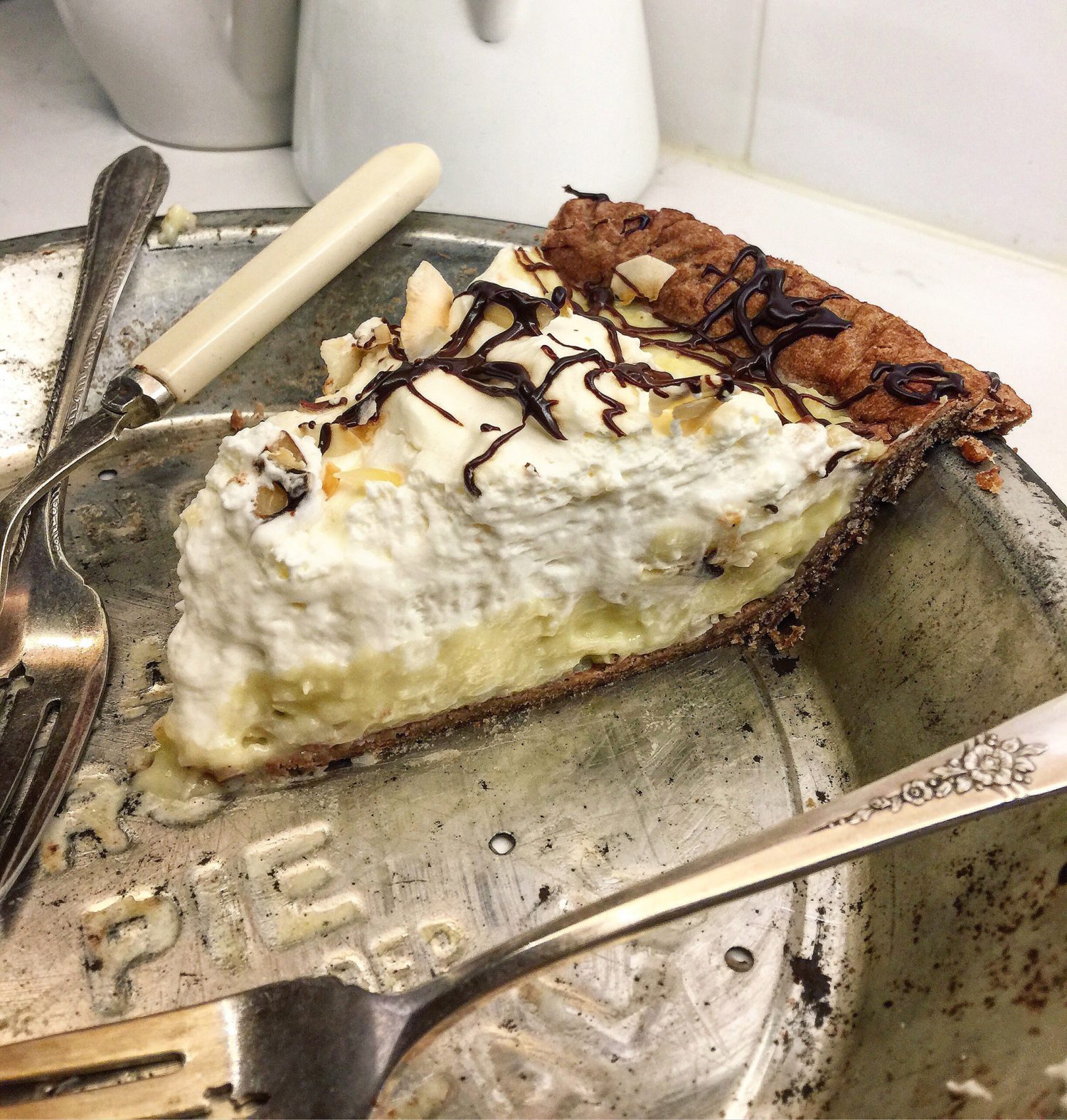 Almond Joy Coconut Cream Pie
A classic coconut cream pie (a really fabulous coconut cream pie!) gets updated with some chocolate and almonds. Almond Joy candy bar heaven!
Ingredients
1

Perfect Pie Crust recipe

see archives

3

tbsp

raw cocoa powder, divided into 2 and 1 tbsp

1 tsp

granulated sugar

1/4

cup

AP flour

2 3/4

cups

whole milk

1/3

cup

AP flour

2/3

cup

granulated sugar

good pinch of salt

1

cup

shredded unsweetened coconut

3

extra larger yolks

slightly beaten, in a bowl

4

tbsp

butter

room temperature or cool.

1

tsp

real vanilla extract

1/4

tsp

almond extract

1/2

cup

almond slivers

1

cup

whipping cream

2

tbsp

icing sugar

2

tbsp

Amaretto or almond liqueur

3-4

oz

dark chocolate (up to 113 g)

broken up into pieces

2

tsp

heavy cream

1

tbsp

large coconut flakes

toasted

1

tbsp

sliced almonds

toasted
Instructions
Prepare the pie pastry recipe as per the original recipe, with the following changes:

Remove 1 tbsp of the flour. Replace with 2 tbsp of raw cocoa powder, and 1 extra tsp of sugar. Blend as per the recipe, and continue with the butter and shortening.

Divide into two equal portions and pat into disks. Wrap in cling wrap. Put one in the fridge, and the other one if the freezer for future use. The one in the fridge should be in there at least 30 minutes before the next step.

When ready to bake off the pastry, take it out of the fridge and let it come up to room temp, about 20 minutes. Then it will be easy to roll.

Preheat the oven to 400F

Mix 1/4 cup of AP flour with 1 tbsp of raw cocoa powder in a bowl with a whisk. This will become your bench flour, for rolling the dough on.

Dust your rolling pin with this flour, and roll out the dish to fit a 9 inch pie plate, with a good 1-1.5 inch overhang. Roll gently up in the rolling pin and then transfer the pin to the plate. Unroll the pastry over the plate. Ease the dough into the plate. Trim excess, leaving a good 1 inch border. Fold this under itself against the pie plate. Flute or decorate as desired. Using a fork, poke holes in the crust. Place in the freezer for 10 minutes.

Cut a circle of parchment or aluminum foil large enough to fit into the pie and then fill it with pie weights or dried beans etc. Try to remove as many air pockets as possible with the weights or beans. Place the pie plate on a baking sheet and bake in the lower third of the oven for 20 minutes.

Carefully remove the parchment and pie weights and bake for another 10 minutes, until it is set and starting to turn a darker brown.

Remove and let cool entirely.

While the pie crust is baking off, prepare the filling:

In a pot, add the milk and bring it to a scald (watch that it doesn't boil) I do this by cooking it at medium heat, until steam is starting to rise. Alternatively you can heat the milk in the microwave. I don't have a microwave, so I always forget about this option! It doesn't need to be boiling.

Meanwhile, add the flour, sugar, salt and shredded coconut into a medium sauce pan. Place on a burner set at medium low. Slowly add 1 cup of the scalded milk to the flour mixture. Stir constantly until it begins to thicken. Once thickened, add the next cup of milk. Continue until the third cup of milk has been added.

Once it has thickened. removed it from the heat. Add 1/2 cup of the heated mixture to the bowl with the beaten egg yolks. Do this slowly and in a continuous stream, whisking it all together constantly. Then return this new egg mixture to the pot on the stove, stirring constantly.

Return to the heat and cook, stirring, until it begins to boil and big bubbles start, after about 2-3 minutes. It should be nicely thickened now. Remove from the heat.

Stir in the butter, vanilla, almond extract and slivered almonds.

Chill completely.

Pour the filling into the pie shell and smooth the top. Cover with cling wrap and chill in the fridge overnight before adding the whipped cream.

Whip Cream Layer:

Whip up the cream, icing sugar and Amaratto, starting at a slow speed, and gradually bringing the speed up to high. Once fully whipped to a stiff peak (but before you start making butter!) you can spread it on the pie.

Mound the cream decoratively over the filling. I like to leave a border of the filling showing, so that everyone can see what is inside.

Chill in the fridge while you prepare the chocolate drizzle.

In a double boiler (or microwave) melt about 3-4 oz (or 113 g) of dark chocolate. As it is starting to melt, add the cream and stir to smooth.

Alternatively, if you have a jar of chocolate sauce in the cupboard or fridge, this is a great time to pull it out. Place about 1/4 cup in a small sauce pan and heat over low temperature until wamed and thinned out.

In either case, make sure that the chocolate is runny, but no longer hot.

Have 1 tbsp of toasted coconut flakes and 1 tbsp of toasted almond slices ready.

Pull the pie out from the fridge and begin by tossing some of the coconut and almonds over the whipped cream.

Then drizzle the entire amount of chocolate over the pie: I use a fork, letting the chocolate drip from the tongs as I wave it to and fro across and all over the pie. Let your Jackson Pollack out!

Sprinkle with the remaining coconut and almonds slices.

Serve.
SaveSave
SaveSave