One of our favourite road trips was a lovely meandering time from Charleston to Hilton Head to Savannah a few years back.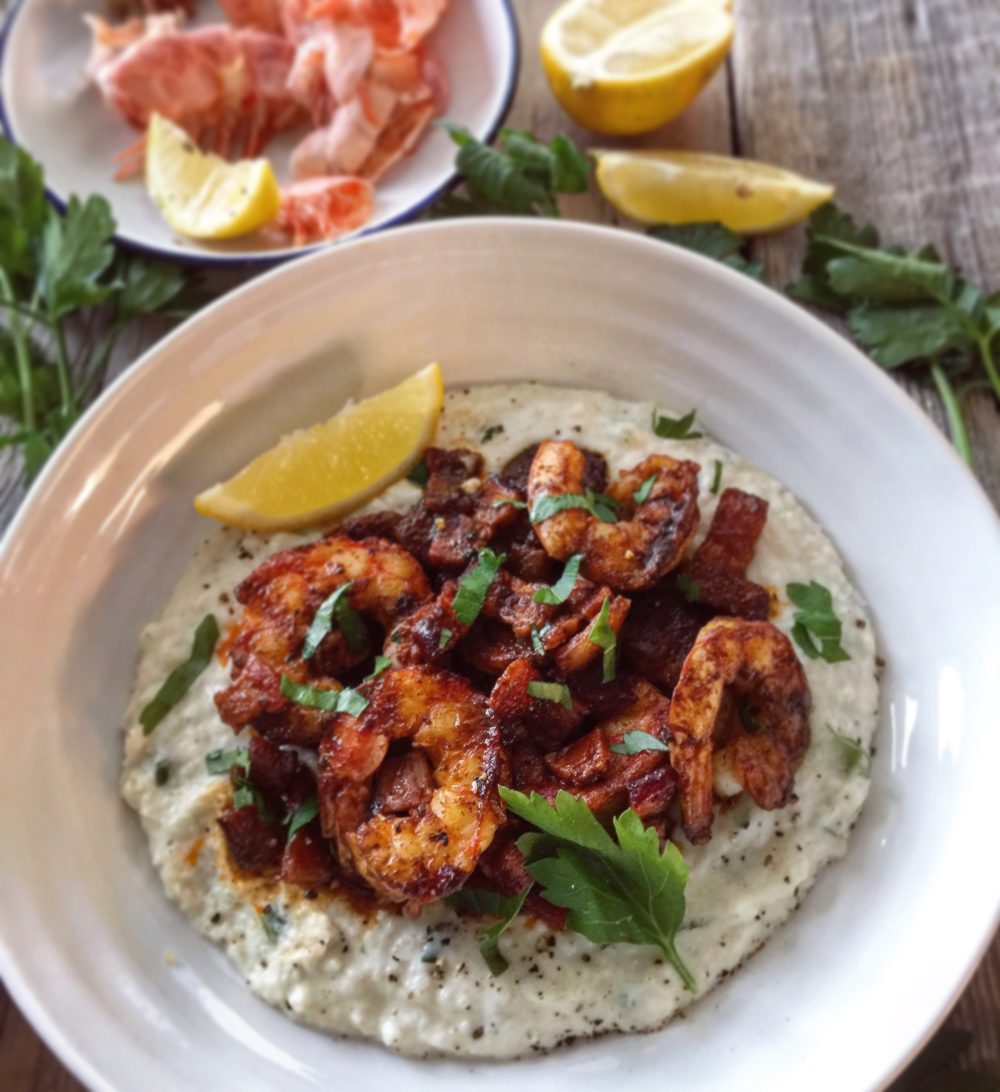 Oh what a glorious corner of the world this south eastern coast of America is! Such old world charm, magical architecture of pastels and filigreed wrought iron, moody spanish moss dripping from the trees, cobble stoned lanes, and salt water kissed weathered homes and buildings. Truly, a case of 'faded glory meets candy store'. The people are gracious, friendly and laid back. And the food! Low Country cuisine is absolutely one of my favourites.
What we consider Low Country cuisine actually hails all the way from Africa. Gullah, as the locals call the people, music, and cuisine, is a slang word for Angola, one of the countries that sadly the slave trade intruded on. One local chef explained how the slave trade introduced new ingredients and styles of cooking to the new world. These beautiful, uprooted people managed to hang on to the world they left behind, by amongst other things, their cuisine. They found that the land, so closely knitted to the ocean that drifted inland was perfect for growing the foods they were familiar with back home. The foods that that kept them close to their roots, eventually gained acceptance and even popularity among the upper classes around them. So today, we are able to meet these people and their glorious heritage by trying out their comforting, homey dishes.
Peanut soup or stew, crawfish, gumbo, cornbread, oysters and grits, okra soup, perloo, Frogmore Stew, collard greens, sorghum and millet, and even rice are all thanks to these original people living in the islands off the coast of South Carolina. Rice, what we take for granted, would never have survived in the area, without the Gullah people's expert cultivation knowledge and techniques. And yes, there are the classics like cornbread, fried chicken and sweet potato pie, and even peanut cake. And these days, this special cuisine can be found everywhere in some form, especially in down home diners and cafes.
One classic that I can never get enough of is Shrimp and Grits. Come on, it's shrimp. And grits! A wonderful sauté of shrimp, andouille or chorizo sausage in a lovely broth of chicken stock or wine smothered over a lovely creamy, cheesy bowl of grits (hominy corn ground down rather like polenta) A stick to your ribs dish that has a true kick from the sausages and some peppers as well.
But grits is not carb free. Rather, it's carb loaded! Like most comfort foods, it isn't low cal. But there is a joy in taking in forkfuls of that creaminess that has soaked up some of the amazing gravy made with the shrimp. And well, cheese. So, how could I have this dish, and eliminate at least some of the guilt? Step in our trusty cauliflower. We have done everything with this king of the veggie world. We've made Alfredo sauce with it. It has stood in for rice and couscous. I've even turned florets into 'fried chicken' on top of waffles! Yesiree Bob! See here. So why not grits as well? This was going to be easy! I keep saying, Cauliflower is the Meryl Streep of the veggie world. I mean it!
Quickly cooking the florets in chicken stalk and then coarsely grinding them in a food processor would set the stage for the final dish. Warning: do not over process the cauliflower. You don't want it so smooth that it turns into a paste. Having some texture is a good thing here. It will mimic the coarse grits of a traditional bowl of grits much better. Adding a touch of cream, cheese, chopped jalapeño and sauteed onions would give us our base.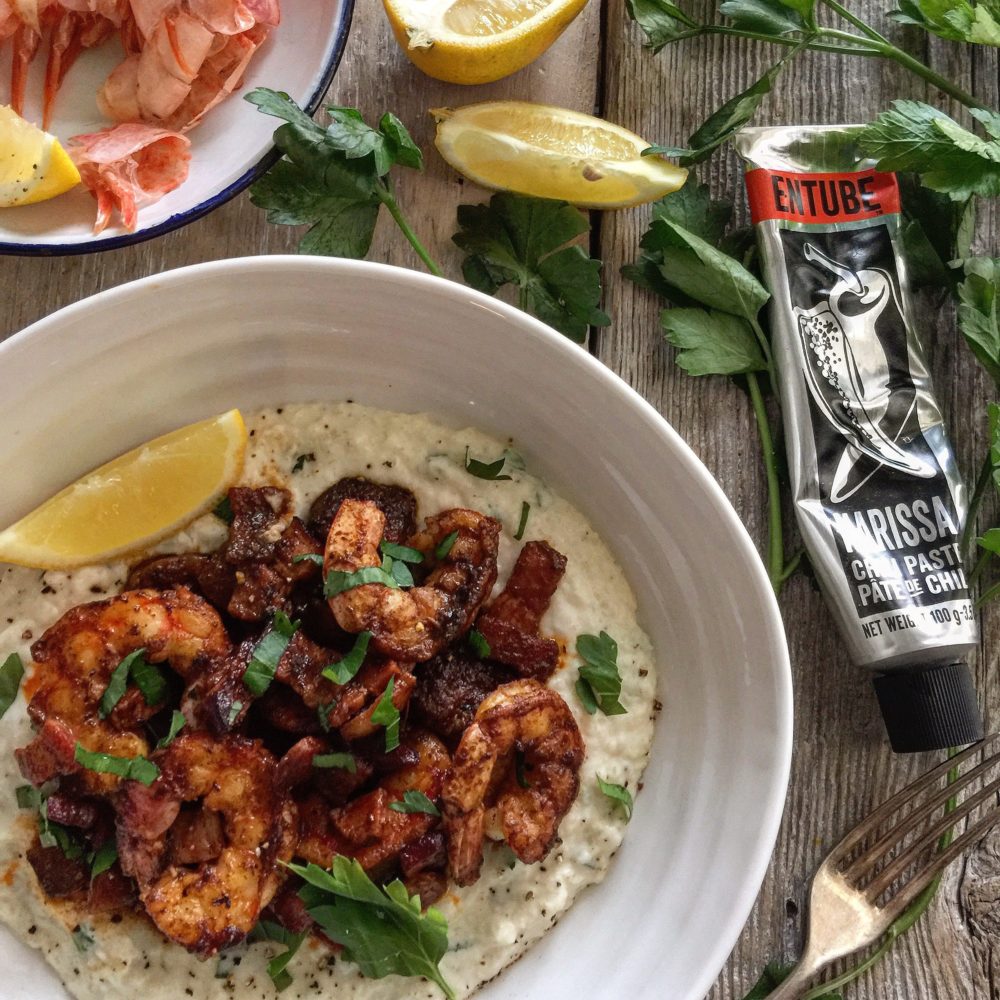 The shrimp part of this dish is pretty straightforward. Chopped bacon, diced andouille or chorizo sausage, onions, garlic, shrimp and a touch of chicken stock and white wine will give us our 'stew' to serve on top of our grits. And I think this is a perfect place to use some of my Entube harissa paste. Adding some to the chicken stock as it reduces adds another layer of heat that will be mellowed by the grits, but not too much.
I hope you like this meal as much as I do. It brings me back to our stay in Low Country. It is a dish that you can easily make up for just one, if you've got the house to yourself. But it works great as a meal for the family, or even for company.
Love Jen.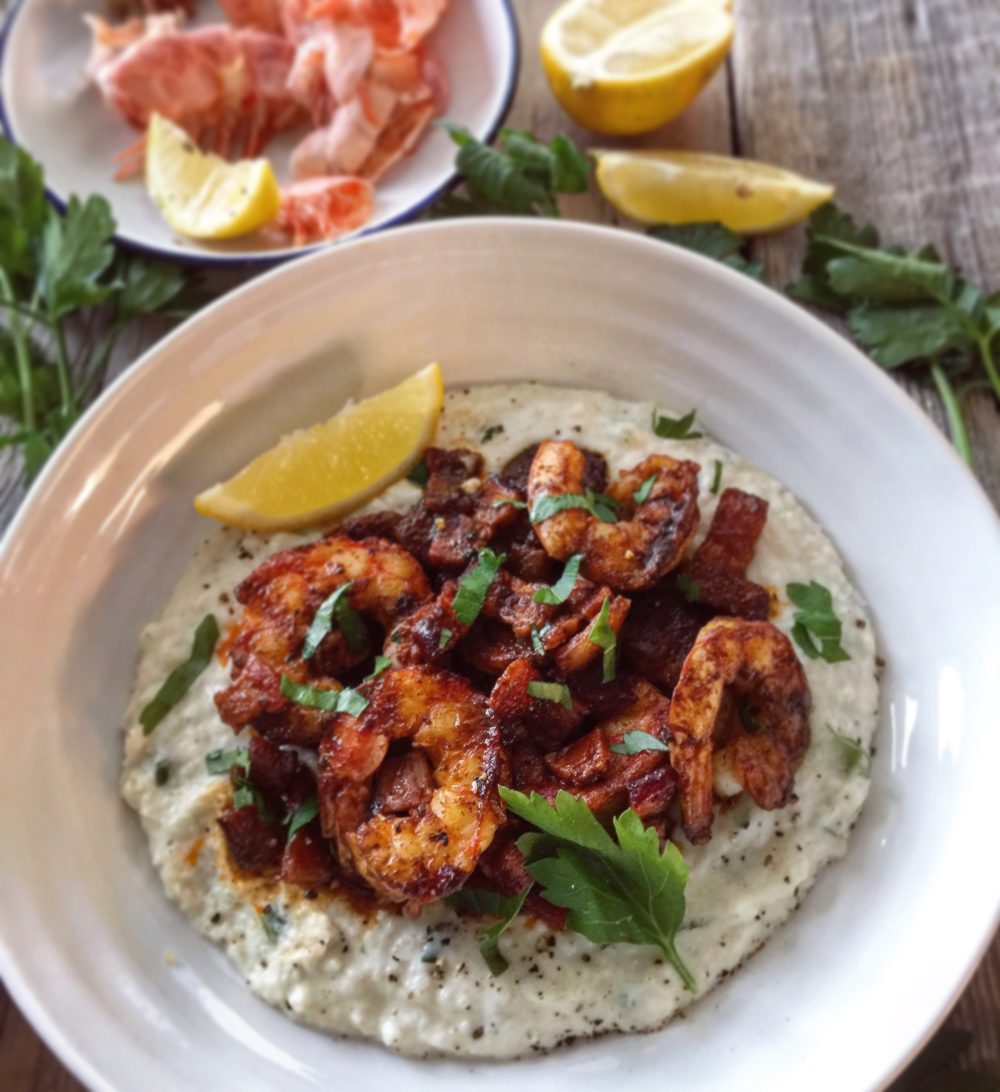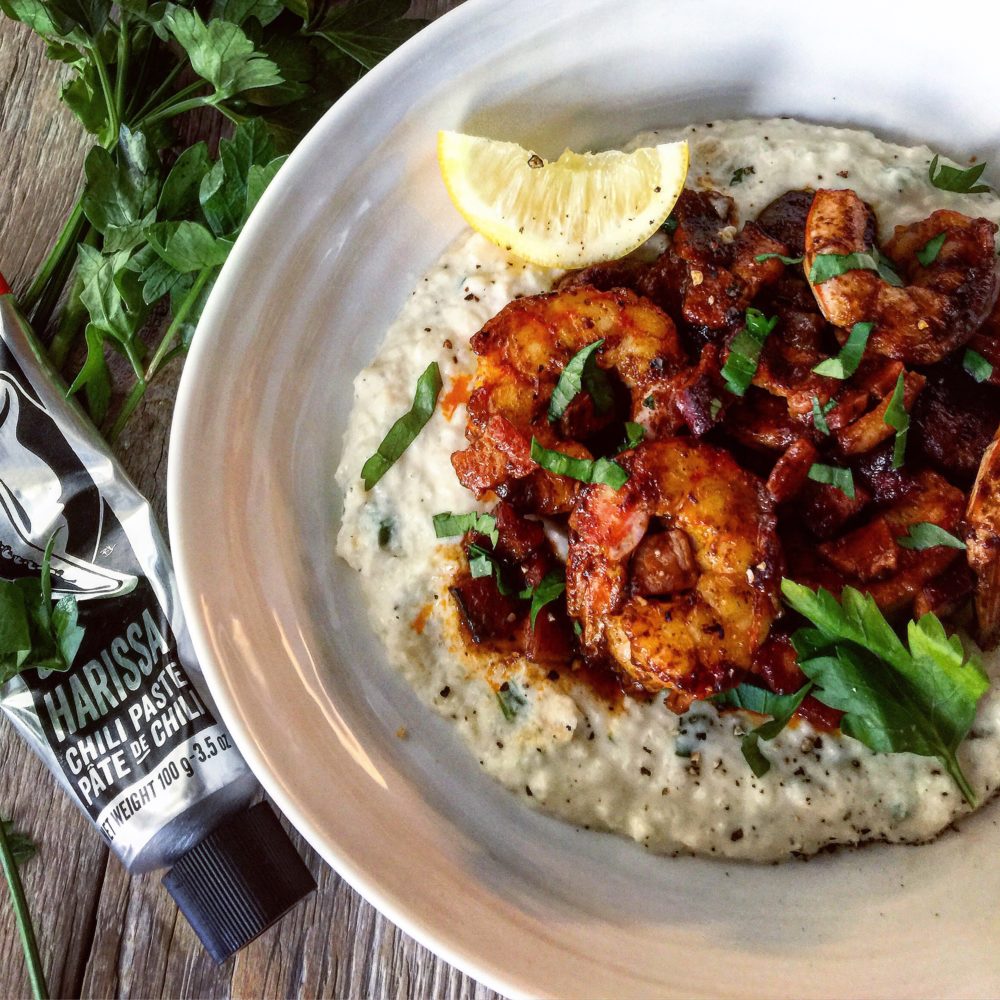 Harissa Shrimp and Cauliflower 'Grits'
A classic dish of sautéed shrimp and sausage in a spicy sauce over creamy, cheesy grits made out of cauliflower. Low Carb Heaven!
Ingredients
1

head

cauliflower

cut into florets, and don't waste the stems!

1.5-2

cups

chicken stock

1

tbsp

butter

1

onion

finely diced

4

garlic cloves

minced

1

jalapeno pepper

seeded and finely diced

kosher salt and cracked pepper

2

tbsp

heavy cream

1

cup

grated cheddar cheese

I use a white cheddar to keep the final 'grits' a light colour

1

tsp

lemon juice

2

scallions

finely diced crosswise, eliminate the root and dark green tops

4

slices of bacon

cut into small lardons

1

link smoked andouille or chorizo sausage

diced into 1/4 inch quarter moons

16

jumbo shrimp

shelled and deveined

1-2

tbsp

butter

1

small onion

diced

2-3

tsp

Entube Harissa paste

1/4

cup

chicken stock

2

scallions

sliced thinly, root and dark green tops removied

2

tbsp

parlsey

for garnish
Instructions
For the Grits:

Add the cauliflower florets to a medium sized pot and just cover with chicken stock. Bring to a boil and then reduce to a rolling simmer. Cook until just tender, about 10 minutes. Drain.

Place the florets into a food processor and chop till very small pieces are achieved. You don't want the final texture to be totally smooth- the sizes of large couscous is good. Set aside.

Heat the butter in a skillet over medium high heat. Add the onions and sauté for 3 minutes. Add the garlic and stir around another minute. Add the jalapeño pepper and stir to combine.

Add the pulsed cauliflower to the mixture and combine well. Cook another minute. Add 2 tbsp cream and season with salt and pepper. Stir and cook for one minute or until it begins to thicken.

Add the cheddar cheese and stir well into a lovely mixture. If you find that it is too stiff or thick, thin out with a little chicken stock, tbsp by tbsp.

Add the lemon juice. Taste and re-season if desired.

Stir in the scallions. Keep warm while you work on the shrimp. Again, if it seems to thicken, add a touch of stock before serving.

To prepare the Shrimp:

Heat a large skillet over medium high heat.

Add the bacon lardon and sauté until just crisp (about 4 minutes) Remove to a paper towel lined plate.

Add the sausage pieces and sauté till just crisp on all sides, about 5 minutes. Add to the plate with the bacon.

Depending on how much fat is left behind by the bacon and sausage, add a little more butter to the pan.

Add the shrimp and sauté on each side till just cooked through, about 3 minutes per side. Remove to the plate with the bacon and sausage.

If necessary, add a touch more butter. Add the onion and sauté till just translucent, about 4 minutes.

Add the harissa paste and stir into the onions, cooking for about 40 seconds.

Add the white wine to help deglaze the pan. Cook down till half of the liquid remains.

Add the chicken stock and cook till just starting to thicken slightly, about 5-7 minutes. Return the bacon, sausage and shrimp to the pan and stir to coat and heat through.

Add a splash of lemon to brighten the dish.

Season with salt and pepper.

Stir in the scallion slices.

To serve:

Divide the grits evenly between 4 plates. Divide the shrimp mixture evenly over the grits. Sprinkle with fresh parsley.
SaveSave
SaveSave
SaveSave
SaveSave