I can't believe a whole year has gone by since I started this whole blog thing. Boy time flies.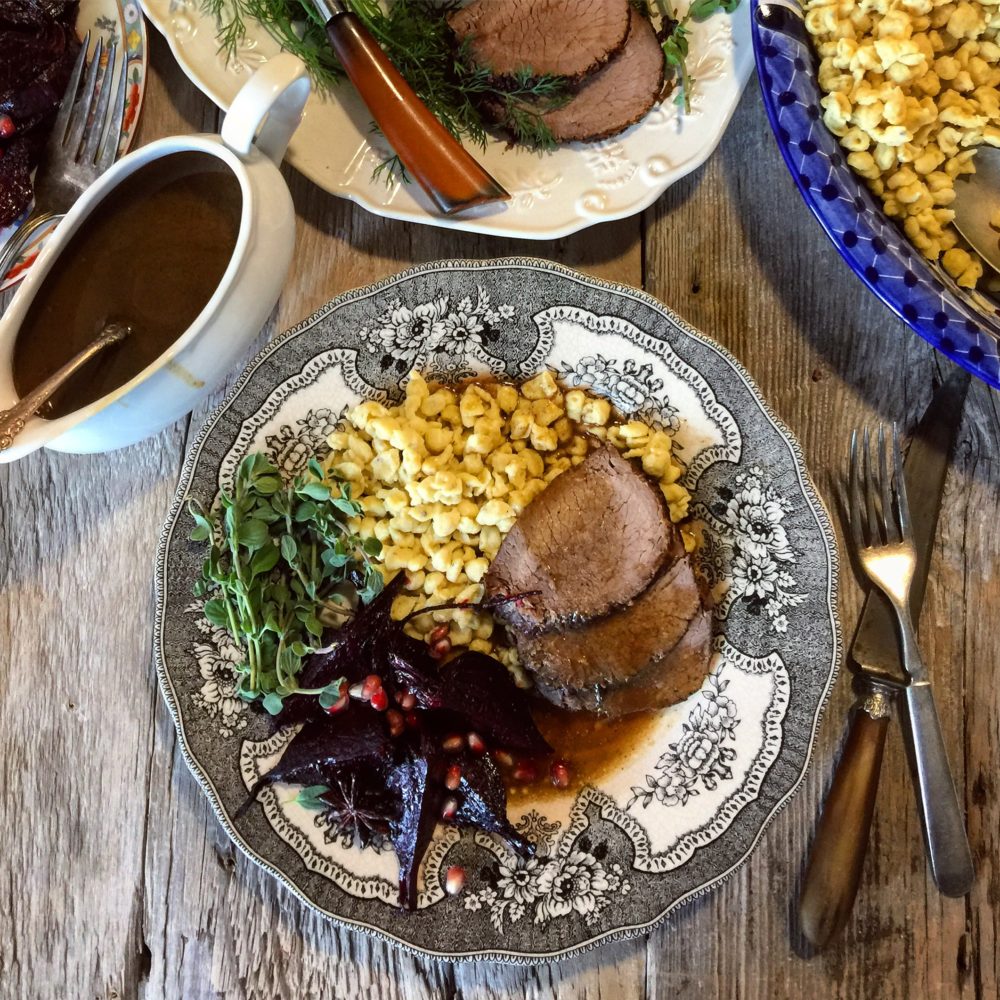 What started because a few friends had kindly asked for me to share recipes through the years, has turned into a full fledged job! And while I started this as a way to share my musings regarding the various dishes that we've been eating here at home, or as a child growing up with German parents, it really also is a tribute to my mom.
My mom was the consummate cook. Sure, she didn't attend the CIA or Cordon Bleu, but she was all that these institutions embody, and more. She took the French cooking school training that she received in Switzerland, and brought it to Canada and our family. She knew her sauces, how to combine spices and seasonings, could pickle and preserve enough to fill a few basements many times over, and was always willing to learn something new. She took simple ingredients and made dishes that could be presented to Royalty, with confidence. She taught us not to waste anything (a whole chicken was a meal for the week, by the time she was done with it) and to be creative if an ingredient was missing. Along with my dad, she made sausage, fermented cabbage, smoked salmon and other fish, made wine, dried the most lovely braids of garlic, and taught us to try everything at least once.
German cooking, at it's base, is peasant food. We are not talking elegant portions of complicated dishes with the butter and sauces of French cuisine, with artfully contrived garnishes and towers of delicate cut veggies and meat. We are talking about food that fed farmers and hunters after a long day of being outside. Our food is hearty and sticks to the ribs. We love our pork, and carbs. And whipped cream. We laugh loud, and eat with gusto. I hope I have been able to express this in some of my posts thus far. If not, I have work to do!!
So, in honour of the first year Anniversary of 'The Lemon Apron' I am sharing one of my mom's beloved dishes: Sauerbraten with Spätzle. This is one of our fancier dishes, in that it gets saved for special occasions. This is our version of Roast Beef with Yorkshire Pudding. Without the pudding. And after I tell you what goes into preparing it, I'm just going to say it, it's a fancy Pot Roast. Yep, pot roast. Braised hunk of meat. But not just any braise.
What makes this such a special dish, is also what the name Sauerbraten refers to. For 3-5 days, the tied roast will sit in a marinade of heated through and cooled down red wine, vinegars, pickling spices, juniper berries and onion. Everyday the meat will be turned over, so that every nook and cranny will soak in that marvellously sour liquid. It is sour in the best way possible. And to balance it out, my mom always added just a touch of sugar. Just so that it didn't make you cry or hurt your teeth, if you know what I mean. There has to be balance so that the sourness is pleasing to the palate.
The roast below is an eye of round, New Zealand cut. You can also use a boneless chuck top blade roast, rump roast, or any of the more tender cuts for a good pot roast.
After the marinating time is complete, it is time to sear. All sides get seared off, and then the strained marinading liquid is added back into the pot. And then the braising begins. The roast simmers gently away in the strained marinating liquid and some beef stock, until it becomes uber tender, where a knife is more of a decor piece on the table, rather than a necessity. Turn that liquid into a kicker of a gravy and you will have a whack of happy people around your table. Some German recipes seem to use gingersnap cookies or even gingerbread cookies as a thickener. I didn't grow up with my mom doing this. I'm thinking in the area she grew up in, it just wasn't the popular way. So, I'm not saying these ways are not authentic. Just not to me. I thicken mine with a cornstarch or arrowroot starch slurry. Or you can use a roux. Serve this roast with traditional spätzle or knodel (German potato dumplings), red cabbage or roasted red beets, and you have become an honorary German for the evening. Finish with an apple strudel or bienenstich, and I will want to move in with you.
Having said all that, if you want to serve this with traditional mashed potatoes, I will totally understand. Jim loves mashed potatoes. I love spätzle (little German dumpling/pasta) So I usually make both. Making spätzle is really just a matter of preparing your thick batter, and then pushing it through a colander or spätzle maker into boiling water. The result is little dumpling like noodles. I add dijon and grainy mustards to my batter, so they have a nice little flavour all on their own.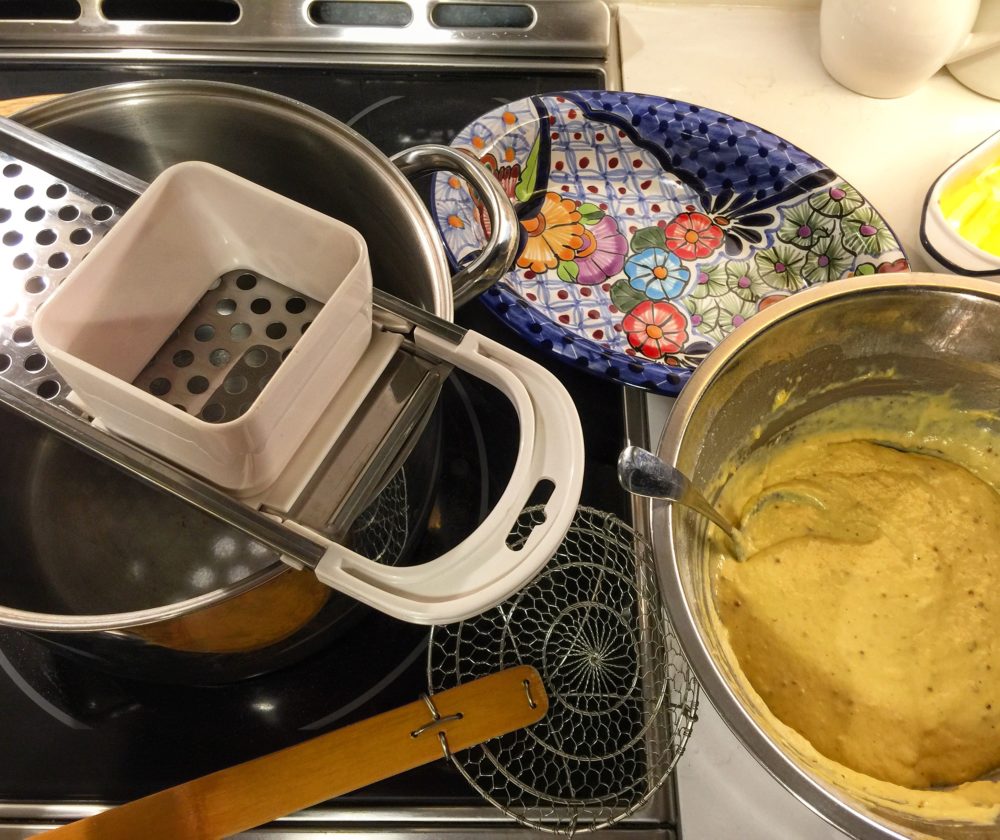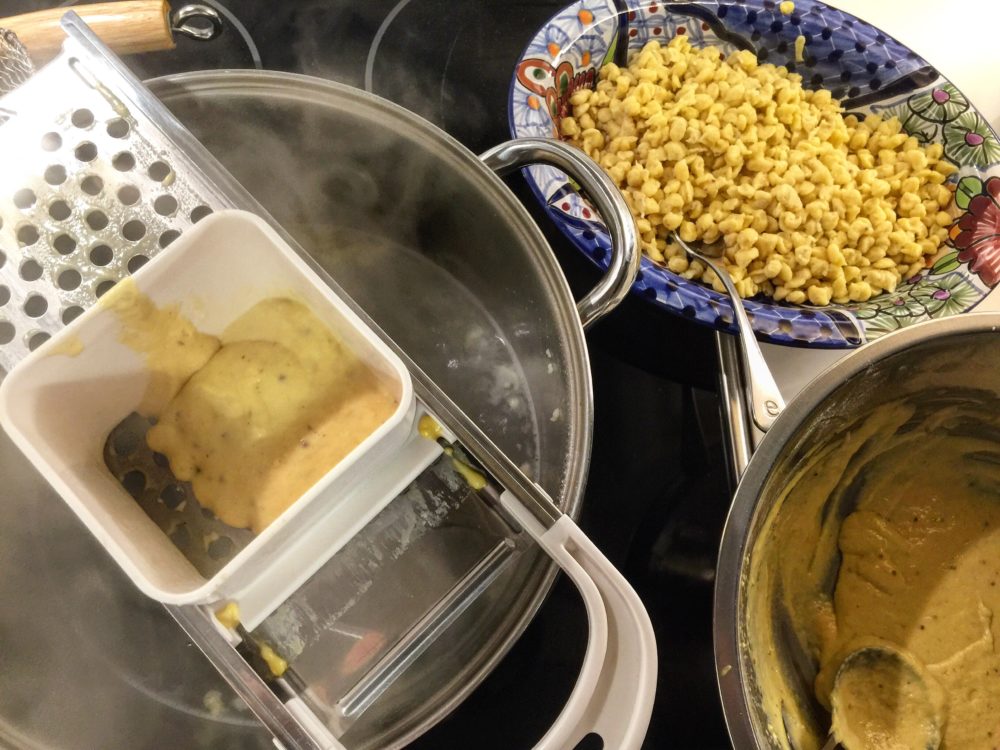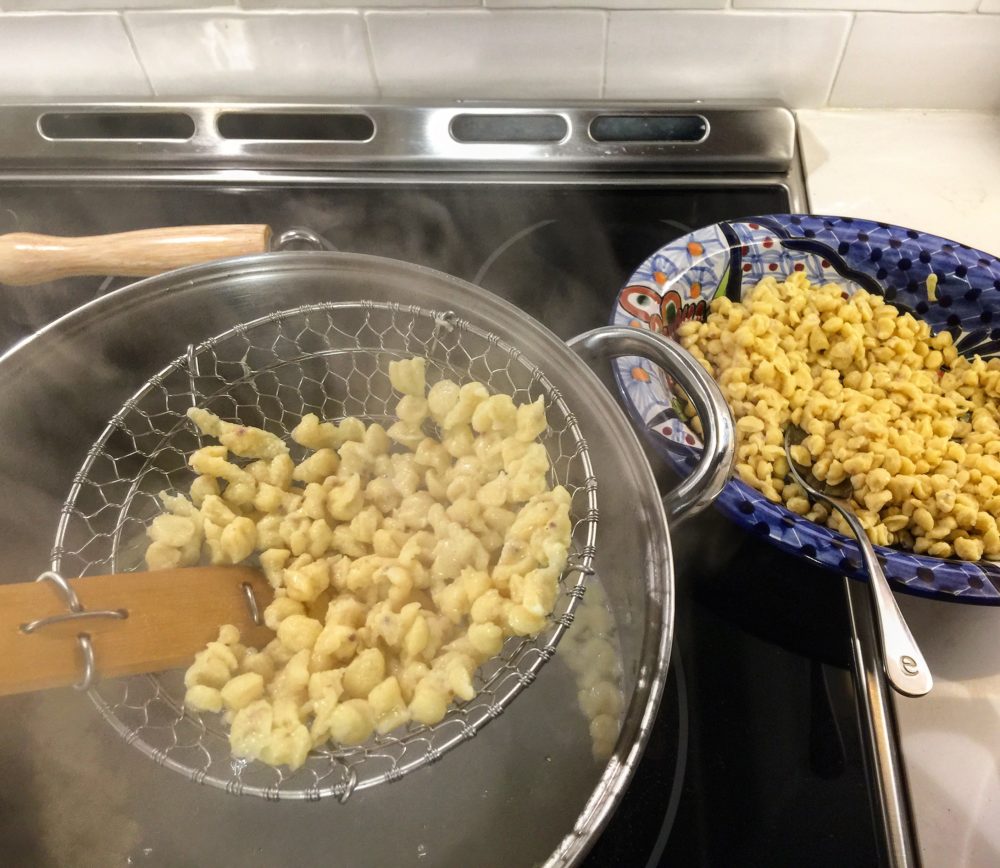 And if my sister is at the table, the knödel (large round potato dumplings) get made as well. I told you we love our carbs! Below I made pomegranate molasses glazed red beets. I'll share that recipe as well.
I hope you give this a try. It sounds more complicated than it really is. The first step isn't hard at all. All it requires is enough room in the fridge, and the reminder to turn the meat daily. After that, it is really quite a joy to cook up. And the aroma in your kitchen is perfume (okay, candle) worthy.
Thanks so much for following along for this past year. I hope I hear from all of you what you think of this recipe, or any other one that you try. It means a lot to hear back from you. If I mess up, or leave something out, give me a poke!
Love Jen.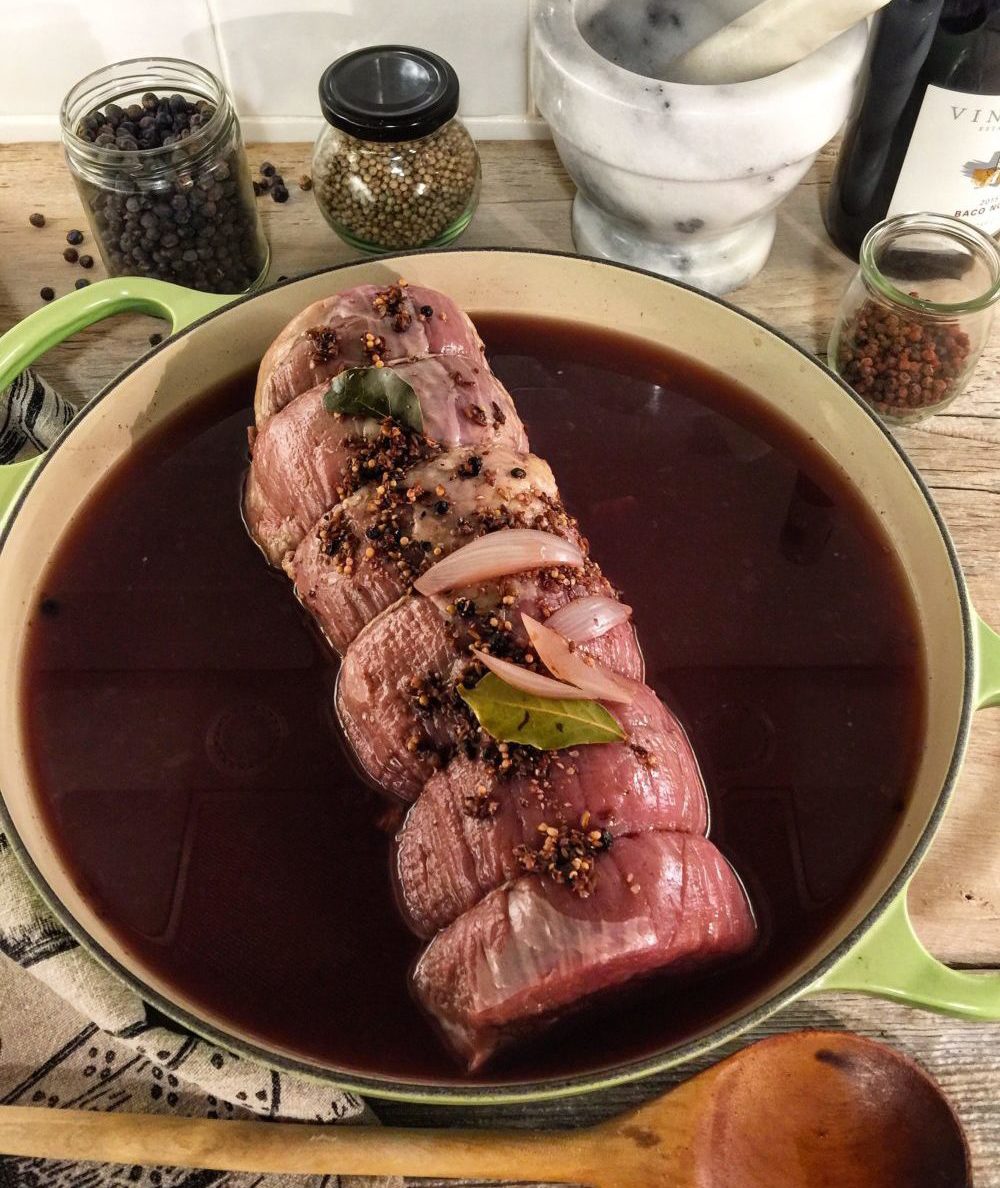 MAMA'S SAUERBRATEN WITH SPÄTZLE
A succulent and flavourful roast, marinated in wine, vinegar and spices for at least 3 days before cooking. It's a special occasion meal that makes German hearts beat quicker!
Ingredients
1 3 1/2- 4

lb

boneless rump or chuck roast

(any tender pot roast cut will work- just ask your butcher for his recommendations)

1

cup

dry red wine

2/3

cup

red wine vinegar

1/3

apple cider vinegar

1

medium onion

, sliced

2

bay leaves

1

tsp

black peppercorns

1

teaspoon

caraway seeds

6

juniper berries

, crushed lightly in a mortar and pestle

2

tbsp

pickling spices

, crushed lightly in a mortar and pestle (see Notes below for recipe)

3

cups

of water

olive oil

1

cup

of beef stock or broth

3-4

tbsp

cornstarch

3-4

tbsp

cold water

2

tbsp

coconut palm sugar

(or brown sugar) or to taste

kosher salt

cracked pepper

1

tbsp

prepared horseradish
SPÄTZLE
3

large eggs

2/3

cup

whole milk

(can use 2%)

2

cups

AP flour

1/2

tsp

kosher salt

1/4

tsp

grated nutmeg

3

tbsp

melted butter

2

tsp

dijon mustard

1

tsp

grainy mustard
PICKLING SPICES
2

tablespoons

whole black peppercorns

3

inches

cinnamon sticks

, total length

2

tablespoon

dill seeds

1

tablespoon

hot red pepper flakes

1

tablespoon

mustard seeds

, any color

1

tablespoon

coriander seeds

1

tablespoon

celery seeds

4

bay leaves

1

tablespoon

dried thyme leaves

1

tablespoon

ground ginger

2

teaspoons

whole allspice berries

1

teaspoon

whole cloves

Optional

1

tablespoon

mace

1/2

teaspoon

cardamom seeds

(or 1 tablespoon pods)

1

tablespoon

juniper berries

2

star anise pods
Instructions
METHOD for Pickling Spices
Put the cinnamon sticks and peppercorns in a plastic bag and smash them with a meat tenderizer or a hammer. Crumble the bay leaves into flakes about 1/8" size. Mix all the ingredients together and store in a tight jar.
ROAST:
In a large pot, combine the red wine, the two vinegars, onion, 2 bay leaves, the peppercorns, caraway seeds, juniper berries, the pickling spices and 3 cups of water. Bring to a boil. Then turn of the heat. Let the liquid cool down completely.

In a large bowl or pot with a lid, place the roast, patted dry and tied. Pour the cooled liquid over the meat. It may not completely cover the meat. But that's all right, you will be turning it daily.

Cover and place in the fridge.

Turn the roast each day to soak up the brine evenly, for up to 5 days. If it is more tender cut of meat, don't go past 3 days as it will start to break down. A larger, rounder cut can handle the 5 days. The longer you marinate, the more intense the flavour will be.
ON THE DAY OF COOKING
Remove the meat and pat dry. Rest it on a baking sheet. Strain the rest of the marinade through a mesh strainer and keep the liquid. Set aside for the moment.

Season the meat on all sides with salt and pepper.

Pour enough olive oil (about 2 tbsp) in a large dutch oven to cover the bottom, over medium high heat.

Add the roast and brown on all sides. Watch that the meat sizzles, but doesn't burn. If necessary, drop the heat to medium. This entire process should take around 20 minutes.

Slowly pour the reserved liquid into the pot with the meat, along with 1 cup of beef stock, and 1 bay leaf. Bring to a boil, and then drop the heat to low to get a gentle simmer. Cover the pot with the lid and cook gently for 1 1/2 to 2 hours. Turn the meat every 30 minutes or so.

When the meat is tender- it should offer no resistance to a knife or fork, remove it from the pot, and tent it with foil on a baking sheet.

Turn the heat to high and reduce the liquid to 3 or 4 cups. (depending on how much gravy you would like. I like lots!) Remove the bay leaf.

While the liquid is reducing, in a small bowl place 3 or 4 tbsp of cornstarch (depending on how many cups you reduced down to, and how thick you like your gravy) and an equal amount of cold water. Using a spoon or small whisk, blend till smooth.

Slowly add the the cornstarch slurry to the reduced liquid and whisk it until it is smooth and thickening.

Taste to check the sourness of the gravy. I usually add 1-2 tbsp of coconut palm sugar for balance. Start with one and see how you like it.

Season with salt and pepper.

Add 1 tbsp of prepared horseradish (optional) for extra kick. Set aside, covered with a lid.
SPÄTZLE
(these can be made while the roast is braising. Or even be made the day before and reheated)

In a large bowl, combine the eggs and milk.

In a smaller bowl, combine the flour, salt and nutmeg.

Add the flour to the egg mixture. Stir to combine.

Add the melted butter and the two mustards. Let the batter rest 10 minutes.

Place a large pot of water onto the stove to boil. Once boiling, place a large colander with medium sized holes over the pot, or use a spaetzle maker placed over the pot.

Working in batches, spoon some of the batter into the colander and push it through the holes into the boiling water. The spaetzle maker pushes the batter through holes by moving the trough back and forth over the holes.

When the dumplings reach the surface of the water, they are ready to be removed with a slotted spoon or spider and placed in a waiting serving bowl. Toss with a touch of butter or olive oil to each batch that you remove.

Continue until all the batter is used up.
SERVE
Cut the roast into 1/2 slices or a touch smaller. Pour some of the gravy onto a serving platter. Lay the pieces of meat on top of the gravy. Drizzle a little bit more gravy over the meat.
Recipe Notes
For the gravy, use 1 tbsp of cornstarch to thicken 1 cup of liquid. If you like it thicker, you can always add a bit more slurry afterwards. I like to make extra of both the gravy and spätzle. The best midnight snack!
Traditionally this meal would be served with cooked red cabbage. But don't feel that you need to stick to this side. I personally like it with roasted beets or even brussels sprouts.
This is a typical special occasion meal, but feel free to make it for Sunday Supper as well!!
Pickling Spices Recipe from 'AmazingRibs.com'
SaveSave
SaveSave