This is just one of those recipes that is a joy to make up. And a joy to serve. And a joy to eat. A real party on the table, and then a party in your mouth!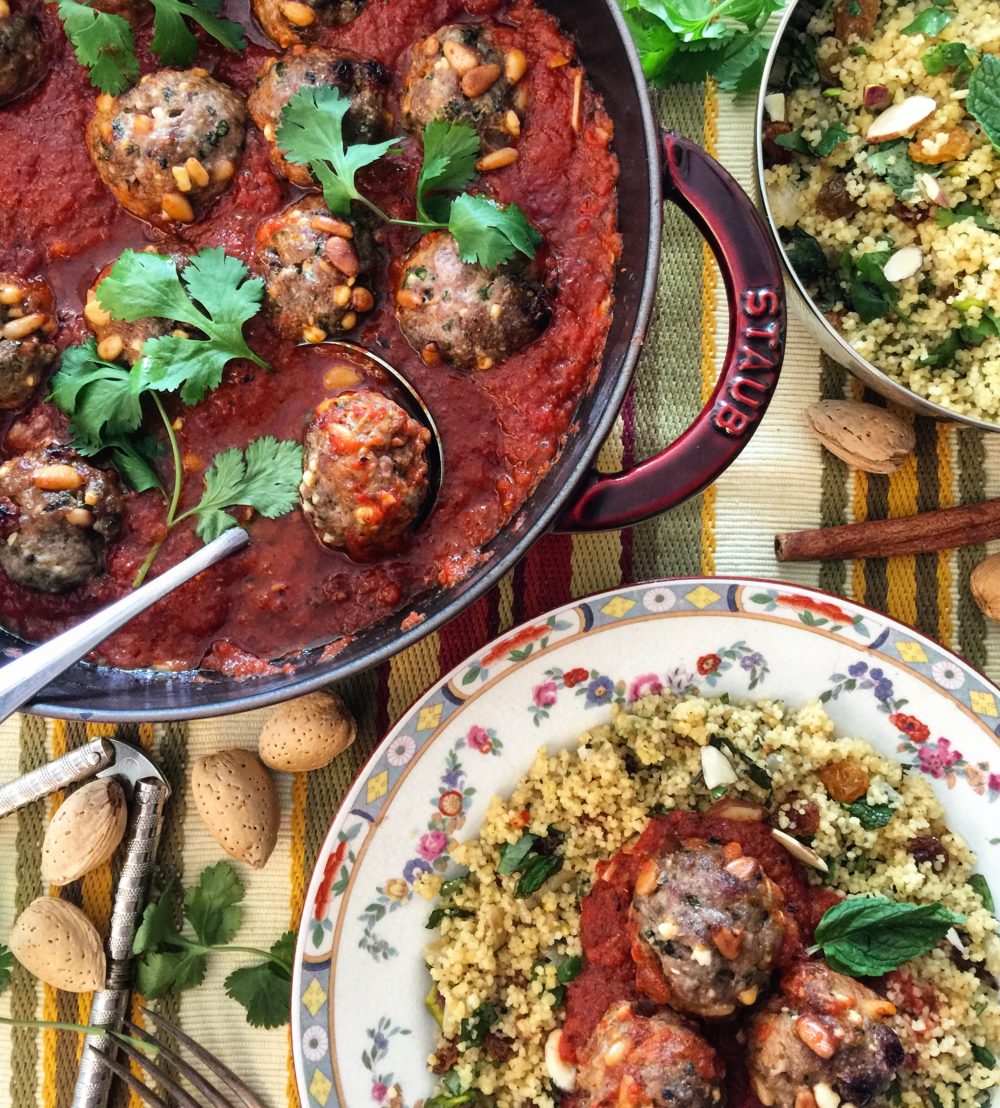 I mean, it starts with meatballs!! And it ends with couscous. This is fun to eat as a family, or a fabulous and festive contender for the next time you are having company over.
The meatball recipe is from Small Victories by Julia Turshen. If you guys are actually reading my words before you scroll down to grab a recipe, you will know how I feel about this book. Honestly, I haven't felt this way about a book in a long time. If a cookbook deserves a shout out from the rooftops, this is it.
One of the features about this book is that, while the original recipe that Julia shares with us is already fabulous, she offers some stellar and unique alternatives for each. Once you have mastered the skills needed for the original recipe, you can take these skills and branch out in so many directions thanks to Julia.
I already love my Italian Meatball recipe (see my Cheesy Baked Meatballs) They are fabulously tender and juicy, and filled with amazing flavours. So I didn't feel compelled to make her version (but I'm sure they're very good!) But her Moroccan Meatballs totally intrigued me. She suggests using toasted pine nuts, raisins and feta cheese in them. Sold! And along with adding the cinnamon stick that she suggests, to the simple tomato sauce that the meatballs will simmer in, I also added ras-el-hanout and a touch of harissa. This really amped up the exotic for the final dish. Using lamb instead of the Italian sausage is a lovely switch up. Really, between the meat choice, and all the healthy additions, this is a pretty good-for-you meal, without sacrificing any flavours.
Now, instead of serving these meatballs with pasta, I decided to just dive in, and go Moroccan all the way. In which case there was only one carb choice for me: couscous. Those joyous tiny semolina balls that cook up in 5 minutes. And if we add all sorts of aromatics, nuts, and spices, the final couscous really becomes the silent star of the evening. I can't tell you how many times I turn to this dish as a side for when company is coming over. The couscous itself is a blank canvas. It really lends itself to a variety of flavours. So, go Middle Eastern, Greek, even Indian with the veggies and spices that you add to the couscous. And if you choose to use whole wheat couscous, you've even upped the health quotient in this part of the meal. But as you can see from the following, it really is a healthy side dish.
The key to a good couscous, is the prep work that happens before the couscous even makes an appearance. I always start with sautéed onions and garlic. If I am adding veggies to the mix, I quickly steam or boil bite sized pieces of carrots, celery, sweet potato, pumpkin, etc to just tender (not over cooked please) ahead of time. Then I add these to the onions. Then I add my seasonings and spices and stir these into the veggies. If I'm adding currants or raisins, they'll be added now. It is crucial at this juncture to confirm that there is still enough olive oil in the pan. If there isn't enough, add just a touch more. Then comes the couscous. Stir it into the veggies and olive oil to get coated. Add the boiling stock and immediately cover (I use cling wrap- whatever will give a good seal). Five minutes later it's time to fluff up. And that's when you can add chopped cilantro, parsley and/or mint. And chopped nuts: almonds, pistachios etc. Why not top with some pomegranate seeds- they are the perfect jewel to top off an already festive dish. But really, it comes together so easily, and tastes just as good at room temperature as it does warm. So it can be made ahead of time. It's even a great salad for the next day. Just add some canned chickpeas!
Another key step happens before you roll the meatballs. Don't roll them until you have tested a bit of the mixture for flavour. I'm not expecting you to taste it raw. Take a small frying pan, and add some veggie spray etc. Heat up, and add a small nugget of the mixture turned into a mini burger (about the size of a quarter) Cook through and then taste (this should only take about 4 minutes or so) This way you can taste to see if the seasonings are correct for you. If not, re-season at this point. Then you can roll with the confidence that you already know how they will taste once cooked up.
I made up the meatballs as per the recipe, and of course it produced more than Jim or I would be able to eat in one sitting (despite what some of you may think!! hehehe) But of course, freezing meatballs is just the best thing: place each meatball as you form it onto a parchment lined baking sheet. When the sheet is filled with meatballs, place the entire sheet into the freezer. Once the meatballs are frozen, you can place them into a freezer bag. Then when you find out that your brother and his wife are coming over, just pull them out and let them thaw. Then bake them up and prepare the sauce while they're in the oven. Place the baked meatballs into the sauce and let them simmer gently away. In the meantime whip up the couscous (it can be as elaborate or as simple as you want, depending on what the fridge and pantry may present you with) Ta Da! Done!
Love Jen.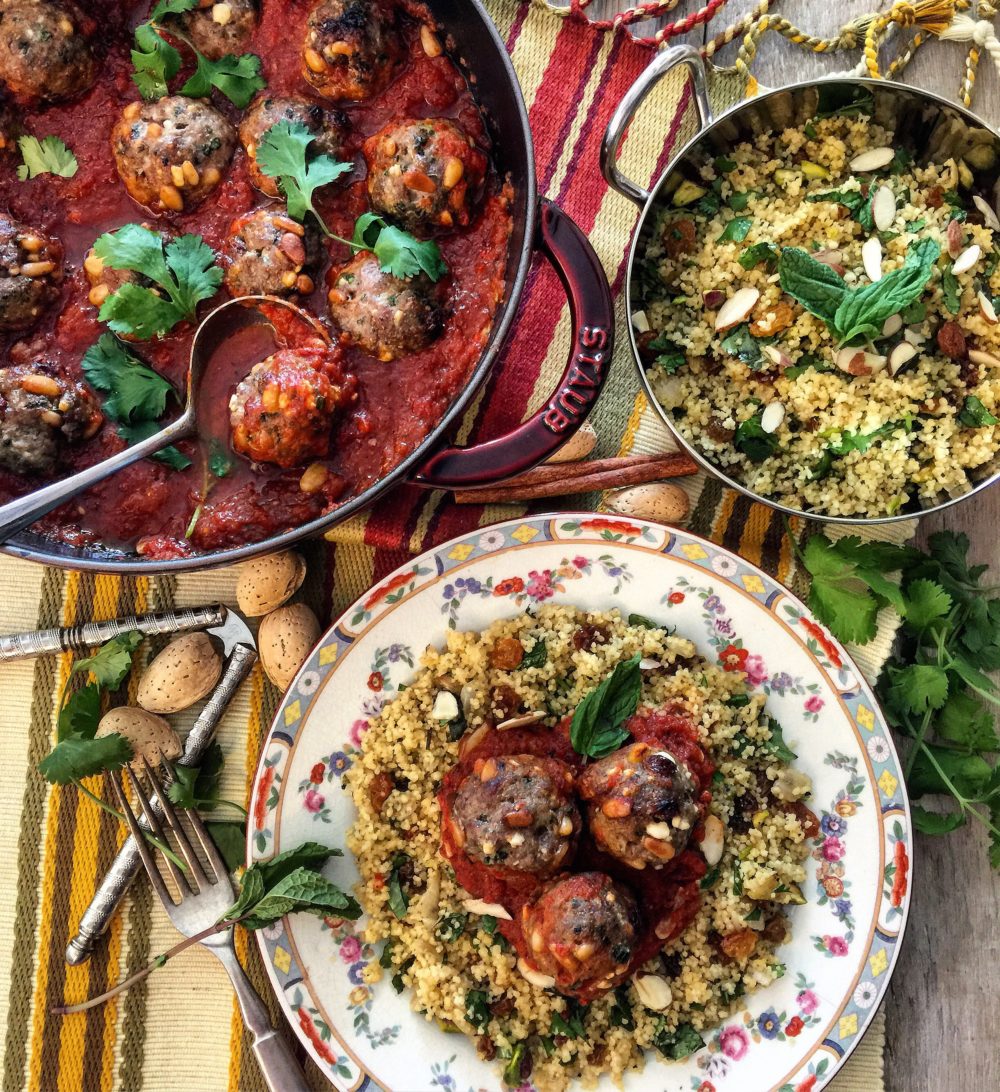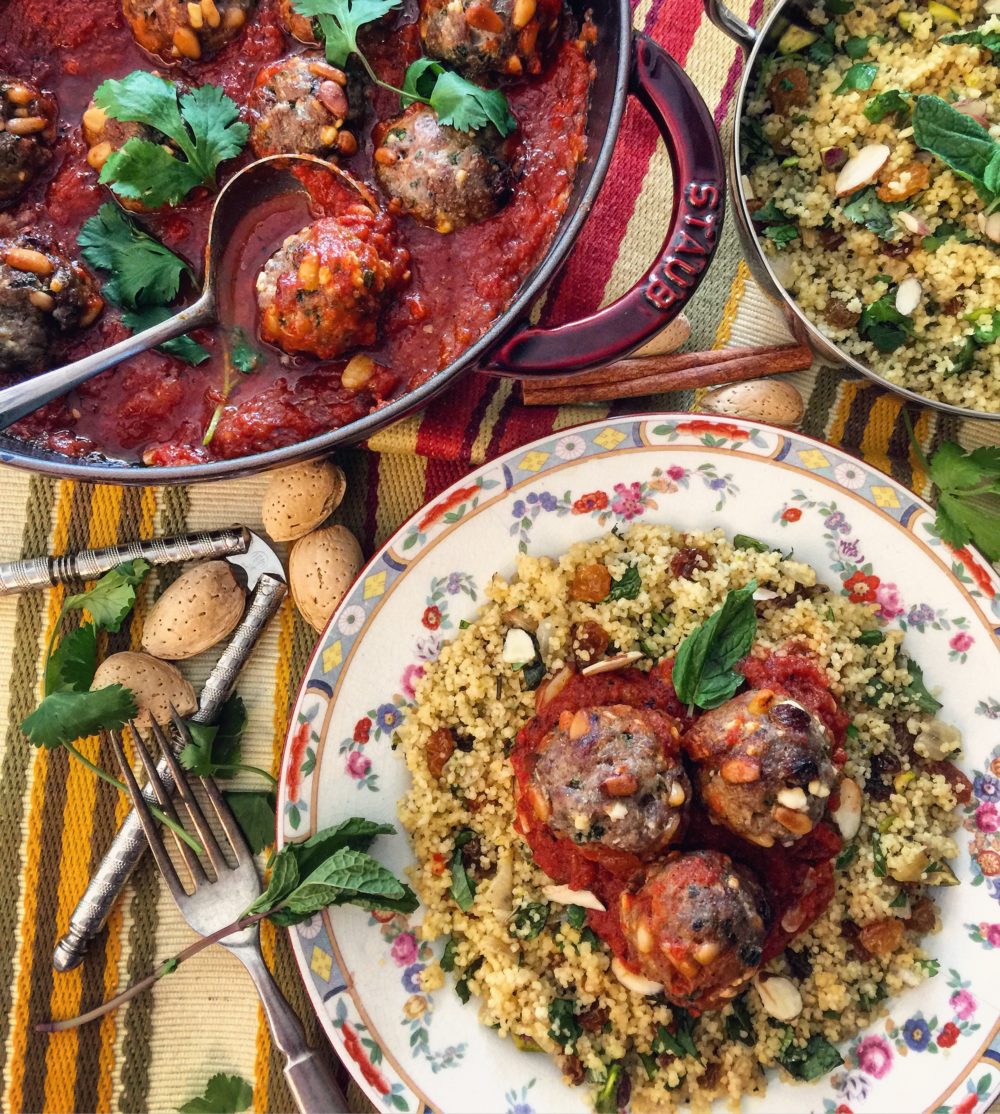 Moroccan Meatballs with Jewelled Couscous
A fragrant and flavourful lamb meatball dish made with feta and pine nuts, in a simmering tomato sauce with Moroccan spices. it's served over a festive couscous of veggies, nuts and raisins.
Ingredients
Sauce and Meatballs
2

@28 oz

(794 g) cans of whole peeled tomatoes

7

tbsp

olive oil

6

garlic cloves

,3 thinly sliced and 3 minced

kosher salt

1

cup

(40 g) mint leaves finely chopped

1/2

cup

feta cheese crumbled

2

lb

(900 g) ground lamb

handful of pine nuts

(about 1/3 cup) toasted

handful of raisins

(about 1/3 cup)

2

cinnamon sticks

2

tbsp

ras-el-hanout

2

tsp

harissa powder or paste

kosher salt and cracked pepper to taste
Couscous
3

tbsp

olive oil

1

medium onion diced

3

garlic cloves minced

1 1/2

cups

carrots

, sweet potato, butternut squash or a combination of all cut into bite sized cubes and steamed or boiled to just fork tender (do not over cook)

kosher salt and cracked pepper to taste

1

tsp

harissa powder

1/2

cup

golden raisins

1 1/4

cup

uncooked couscous

1 1/4

cup

chicken stock

1/2

cup

fresh mint chopped

1/3

cup

cilantro chopped

1/4

cup

toasted almonds chopped coarsely

1/4

cup

slivered pistachios
Instructions
SAUCE AND MEATBALLS
Add the contents of the tomato cans into a large bowl (don't get rid of the cans) and crush the tomatoes with your hands. Rinse one of the cans with about 1/4 cup of water and pour it into the second can. Swish it around to get all the bits from the bottom of the cans and then pour this into the bowl with the tomatoes. Set aside.

In a large saucepan or pot over med-high heat, warm 3 tbsp of the olive oil and add the sliced garlic and cook, stirring until it begins to sizzle, about 1 minute.

Add the tomatoes and cinnamon sticks, and a very large pinch of salt and bring to a boil. Add the ras-el-hanout and harissa.

Lower the heat and let it simmer, stirring every so often, until it has thickened slightly, about 30 minutes.

Preheat the oven to 425F (220C)

Line a baking sheet with aluminum foil. Drizzle 2 tbsp olive oil on the baking sheet and use your hands to rub it over the entire surface of the sheet. Set aside.

In a large bowl, combine the garlic, mint, parsley, feta, lamb, pine nuts, raisins and 1 tbsp salt. Blend everything together gently (be authoritative but do not overwork the meat- it will make the final meatball tough) until well mixed.

Remove a small portion (about the size of a quarter) and roll into a burger shape. Heat up a small fry pan coated with some oil or spray over medium high heat. Add your little burger and sauté on both sides till cooked through (this shouldn't take long) Let cool slightly and taste it. Do you like the flavour. Then move on. Does it need more salt or pepper?

Now is the time to add either or both to the bowl and remix. Once you are happy then you can roll your meatballs with confidence that they will taste just how you want once cooked up. This is key if you plan on rolling some for freezing.

Use your hands to form the mixture into golf sized balls. If the mixture is sticky, a little water on your hands will help.

Transfer the meatballs to the prepared sheet. Drizzle the meatballs with the final 2 tbsp olive oil.

Roast till they are browned and firm to the touch, about 25 minutes.

Using a tong or slotted spoon, transfer the meatballs to the simmering sauce. Discard any juices left on the sheet.

Cook the meatballs for another 10 minutes in the sauce. (they can sit in the sauce, simmering gently, for up to an hour, if needed)

Serve over couscous.
COUSCOUS
In a large sauce pan or skillet, warm the olive oil over medium heat. Add the onion and cook for about 2 minutes. Add the garlic and cook another 2 minutes.

Add the steamed or cooked veggies and stir into the onion mixture. Add the raisins.

Season all with salt and pepper, as well as harissa powder. Add another tbsp or less of olive oil if it seems that most has been used up.

Add the couscous and stir into the veggie mixture, ensuring that all have been coated with any olive oil.

Add 1 1/4 cup of boiling stock. It must be boiling. Immediately cover tightly.

After 5 minutes, lift the lid

Fluff with a fork. Re-season with salt and pepper if needed.

Fold in the chopped mint and cilantro and the nuts.
Recipe Notes
You can easily freeze half of the meatballs if you know you won't need them right away. In this case, have two baking sheets ready, one covered in a piece of parchment or wax paper. Place hand rolled meatballs onto the sheet with paper, and when you have filled it with the meatballs you wish to store, place the baking sheet into the freezer. Once they have frozen through, put them all into a freezer bag and store until needed. You can serve this couscous on it's own, as a side with grilled chicken or kebabs, or even as a salad. By adding drained chickpeas or cold chicken, it becomes a great salad to bring to work. Adapted from Simple by Julia Turshen.