Plums are the little nerdy cousin in the fruit world. They're not as glamorous as figs, dragon fruit or mangos. They're not as popular as apples, peaches or strawberries.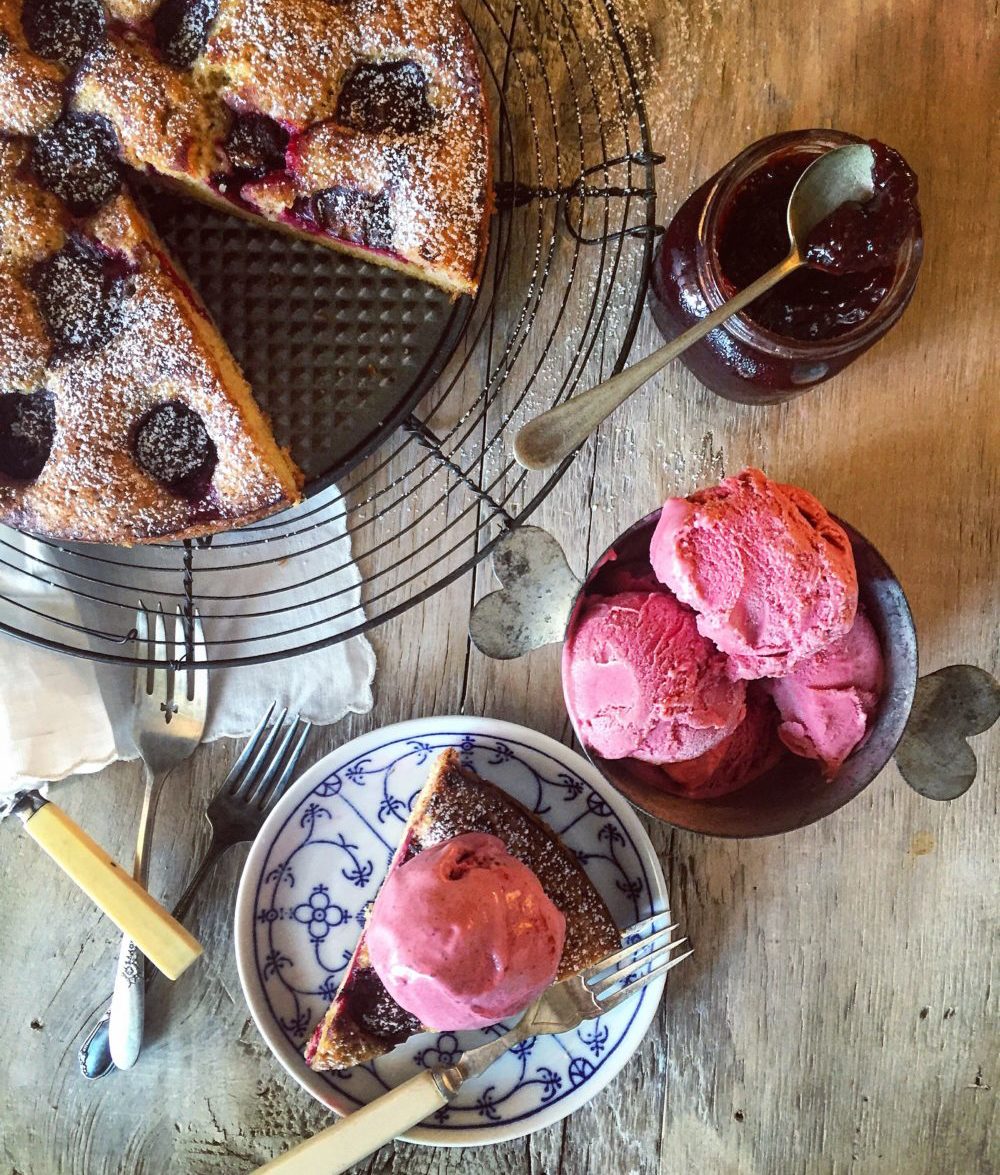 They're not as feisty as cherries, blueberries, or blood oranges. They are the stone fruit sitting in the library with their study group, rhubarb, gooseberries and currants. Deep, thoughtful, intelligent, and the fruit that all the others want to have write their essay papers. Yes, I've given this a lot of thought. Unnecessary thought, but thought nonetheless!
I love plums as much as I love cherries, rhubarb and pears. They have such complex personalities. They can be sweet or sour, big or small, red or dark purple, even yellow or green, and totally remind me of my childhood. I happily shared my plum butter recipe with you all 🙂 I'd hazard a guess in saying that here in North America, plum butter or plum jam are not the most popular jams on the store shelves, we'll leave that to the classic strawberry preserves, orange marmalades, raspberry jams etc. But the richness of plums is totally appreciated in European countries- most plums trees flourish in the cooler settings, as opposed to the warmer, almost tropical lands. So, you'll often see Northern European cookbooks filled with plum, cherry, and currant recipes. That's not to say other lands also don't have a love affair with plums- just look at Japan with their satsumas, or southeast Asia where jamun reigns supreme.
And the torte that I fell in love with years back is no exception. It is the perfect showcase for the late summer harvest of plums. My mom used to make a pflaumenkuchen recipe that is somewhat similar to this recipe. But as many of you have discovered, getting recipes from my mother was like trying to find Atlantis or the Ark of the Covenant. She kept all the recipes in her head, not to be some secret storehouse of treasured information, but that is just how she worked best. I'm sure a lot had to to with having everything in her head in German, and finding it a struggle to write them out into English. She could show and explain perfectly how to do anything, but to get her to write it out for later just didn't happen. So my sister and I hovered and wrote out her instructions as faithfully as we could, from firsthand observation and instruction. But sadly, my mom's plum cake recipe never got immortalized, at least by me. So, I had to find a worthy substitute.
Yay for Marian Burros and this recipe! She is an award winning cookbook author and food columnist for the New York Times, and numerous other journals. Her recipe for Purple Plum Torte first appeared in the NY Times in 1982, and it was a demanded repeat recipe by readers for years, nay decades later! I first made it about 4 or 5 years back, and was totally hooked. It is soooo easy! And yet soooo tasty! The star for me is the purple German or Italian prune plum. But you could easily substitute any type of plum, red or purple, satsuma or damson, or even the adorable yellow mirabelle plums of northern France. Or even use nectarines, apricots or figs, if plums aren't your thing!
I make this torte all during plum season. And this year I had enough plums left over that I decided to try something new: Roasted Plum and Cardamom Ice cream. I knew I wanted to make a fruit ice cream or gelato, so I scoured Pinterest for some inspiration. I found it with an archived Sift and Whisk recipe. Exactly what I wanted to make! And Maria had me at 'cardamom'! For me, cardamom immediately elevates the flavours of all other ingredients, surrounding them with a warmth and spiciness that is both Nordic and Indian at the same time. While she shows her recipe using red satsuma type plums, I knew that the purple plums in my fridge would work just fine.
The ice cream recipe doesn't use eggs, so it will have a slightly different texture that a custard based ice cream. But trust me, it is rich, decadent, and packed full of plum flavour. Roasting the plums brings out their wonderful juiciness and draws out a lovely dark fuchsia hue from the skins. And the colour of finished ice cream reflects this amazing colour. It is an easy mixture to prepare, and freezes up perfectly. You will love how wonderful it is on its own, or served next to this luscious torte. I served them both together the other eve, and the reviews were fantastic. So much impact for really very little labour.
I'm going out on a limb and saying that this ice cream recipe will translate with all the other stone fruit that strike your fancy, or even figs!! Can you imagine roasted fig cardamom ice cream@!?! Oh yes, I'm trying that one soon, and I'll keep you posted! But here you go: two plum recipes instead of just one! I'm a giver.
And if you want to slice a piece of torte as spread some plum butter on it and call it breakfast, the plum butter recipe is here!
Love Jen.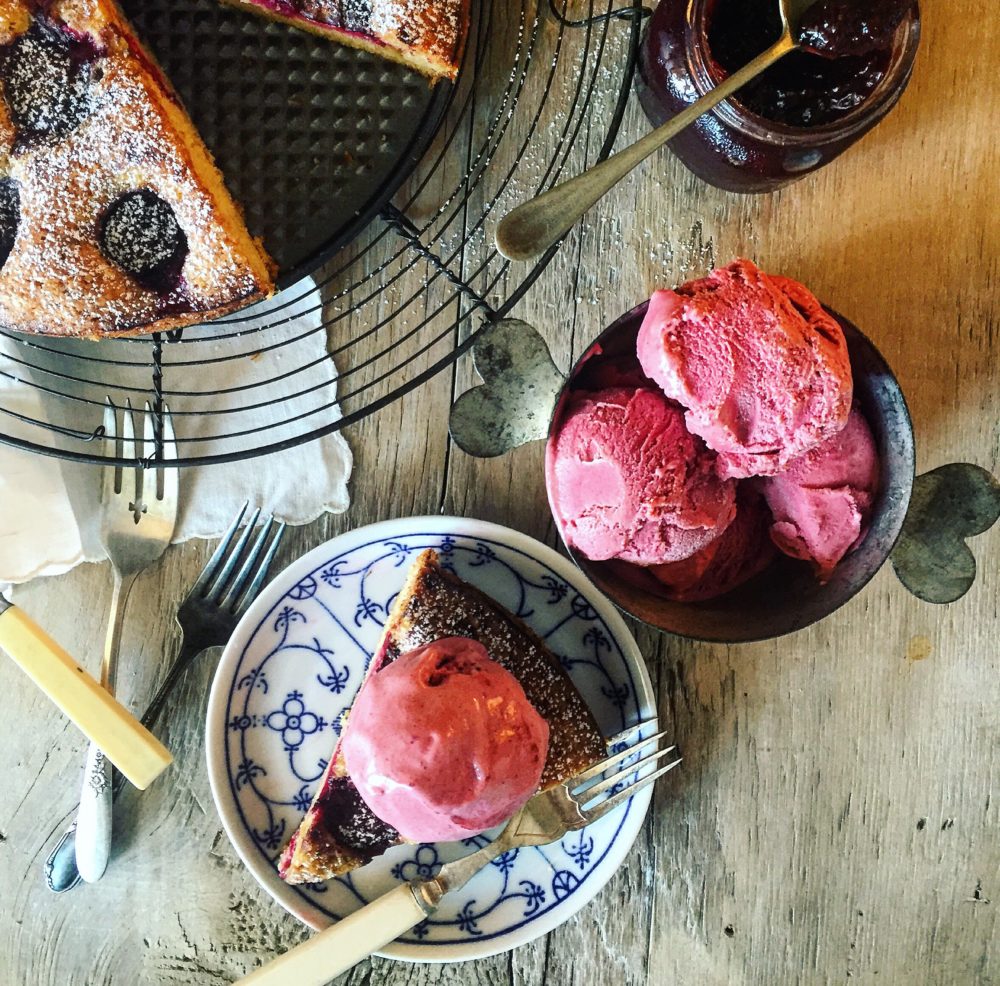 Plum Torte with Roasted Plum Cardamom Ice Cream
The perfect late summer plum torte with hints of cinnamon, topped with a luscious, roasted plum and cardamom infused ice cream. Plum-alicious!
Ingredients
Plum Torte
3/4

cup

sugar

1/2

cup

unsalted butter (1 stick)

softened

1

cup

unbleached flour

sifted

1

tsp

baking powder

pinch of salt

2

eggs

24

purple plums,

pitted and halved

juice from 1/2 lemon

cinnamon

for sprinkling on top
Roasted Plum and Cardamom Ice Cream
1 1/2

cups

(350 g) heavy cream

10

lightly crushed green cardamom pods

1 1/2

lbs

ripe purple plums (about 6-7)

2

tbsp

brown sugar

1/2

tsp

ground cardamom

1/2

cup

(150 g) granulated sugar

1

tsp

vanilla extract
Instructions
PLUM TORTE

Preheat the oven to 350F

Cream the sugar and butter with a hand mixer or stand mixer.

Add the flour, baking powder, and salt.

Add the eggs, one at a time and mix well.

Spoon the batter into a greased springform pan (an 8" or 9" is best)

Place the plum halves skin side up on top of the batter, fitting as many as will comfortably fit depending on the size of pan you choose. A little squishing is fine, but don't totally over crowd.

Sprinkle with approximately 1 tsp lemon juice and as much cinnamon as you like (I probably sprinkle about 1 tsp)

Bake for 40-50 minutes, until a cake tester inserted into the centre comes out clean.

Cool on a rack.

ROASTED PLUM AND CARDAMOM ICE CREAM

In a medium saucepan, combine the heavy cream and crushed cardamom pods and bring to a simmer over medium heat. Remove from heat, cover, and let steep for 1 hour.

Meanwhile, preheat oven to 425°F. Halve and pit plums. Place cut side up on a baking sheet lined with parchment paper. Roast for about 15-20 minutes (depending on the ripeness of your plums), until plums are tender and can be easily pierced with a fork.

Transfer hot plums to a blender or food processor. Add brown sugar and ground cardamom, and blend/process until smooth. Strain through a fine mesh sieve into a large bowl, pushing liquid through with a rubber spatula.

When the cream is finished steeping, strain the cardamom cream through a sieve directly into the plum purée. Add the granulated sugar and vanilla extract. Stir until uniform in color, cover the bowl, and transfer to the fridge to chill for at least 2 hours or overnight.

Remove bowl from the refrigerator and stir thoroughly.

Pour mixture into the bowl of an ice cream maker and freeze according to the manufacturer's instructions. In my ice cream maker, this took about 25 minutes. Transfer to lidded container and freeze until firm.
Recipe Notes
TO STORE THE TORTE
Refrigerate, wrapped well in cling wrap. Reheat at 300 (150C) till just warm.
To freeze: wrap in cling wrap and then foil and place in a plastic bag. To serve, defrost and reheat at 300 (150C) till warmed through.
The ice cream can be made in advance till needed.
Adapted from Marian Burros Plum Torte
SaveSave
SaveSave
SaveSave